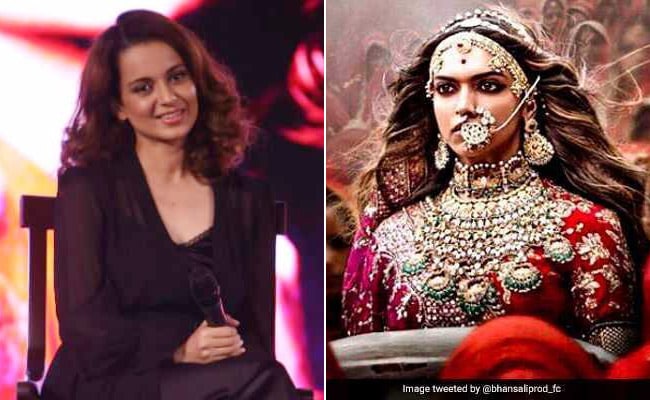 New Delhi:
A letter, initiated by Shabana Azmi and signed by several of her female colleagues, has reportedly been sent to Prime Minister Narendra Modi asking him to take action on the threats made to Deepika Padukone in connection with her film
Padmavati
. The letter - the existence of which none of the signatories have confirmed - proved immediately divisive. Several actresses reportedly did not sign, among them Kangana Ranaut who shares a rumoured history of friction with Deepika. True to her outspoken self, Kangana is the first to acknowledge the letter and reports that she refused to sign as retaliation for the industry's silence over the controversy involving her and Hrithik Roshan. It was because of Shabana Azmi that she wanted no part in the letter campaign, Kangana Ranaut revealed.
A statement released in behalf of the actress places blame rather squarely on Ms Azmi for Kangana's refusal to sign. Here it is:
"I was filming
Manikarnika
in Jodhpur, got a call from my dear friend Anushka Sharma to sign the petition written by Ms Shabana Azmi, I explained to Anushka that Deepika Padukone has all my support but I am a bit wary of Shabana Azmi's investment in left wing vs right wing politics. I have my own set of ideas and opinions about the current situation in our country, I am on the fence about many things and being a part of a feminist movement called 'Deepika
bachao
' lead by someone who character assassinated me when I was bullied, seems to be one of them. Anushka understood but I am glad they reached out to me, like I said Deepika has all my support I am an individual perfectly capable of supporting who I like without anyone's support."
Kangana Ranaut is certainly not the only actress not to have signed. Katrina Kaif is not among the reported signatories, nor is Alia Bhatt, who tweeted indignantly some days ago about threats going unpunished. It is not clear if these actresses were asked to sign - Richa Chadha told NDTV that she wasn't.
The actresses who have signed, and none of these names have been officially confirmed, are reported to include Jaya Bachchan, Aishwarya Rai Bachchan, Vidya Balan and Konkona Sen Sharma, apart from Shabana Azmi and Anushka Sharma.
The threats the letter talks about were made by a Rajput group called the Karni Sena - they want to cut off Deepika Padukone's nose - and a BJP politician who placed a bounty on her head. All this because the actress stars as Rajput queen Padmini of Chittor in the film
Padmavati
- those opposing the film say it 'distorts' history by depicting a romance between Padmini and Alauddin Khilji. Legend has it that Padmini committed jauhar to escape Khilji.
Padmavati
, directed by Sanjay Leela Bhansali, was to have released last Friday. It has, however, postponed indefinitely after the Censor Board rejected it's application for clearance as 'incomplete' - Shabana Azmi was among those who criticised this.
Padmavati
also stars Ranveer Singh and Shahid Kapoor as Khilji and Padmini's husband Ratan Singh.