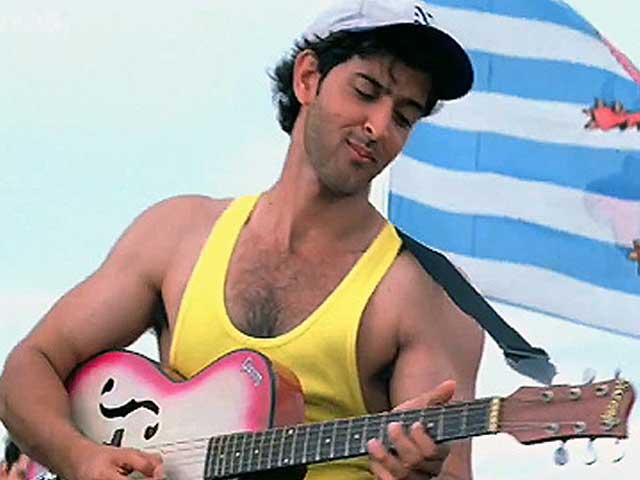 New Delhi:
Actor Hrithik Roshan celebrates his 15th year in Bollywood today. Hrithik, now one of India's biggest stars, made his debut as a hero in Kaho Naa... Pyaar Hai on January 14, 2000. Since then, he's been married and divorced; admired and imitated for his dance routines; sung playback; starred as an Indian superhero; and won four Filmfare Awards.

To celebrate his 15th year milestone, here are 15 things you may or may not know about Hrithik Roshan.

Hrithik may have begun his career as a hero in 2000, but he appeared in a string of films as a child actor, mostly in very brief roles. At age six, his grandfather J Om Prakash had the crew of 1980 film Aasha secretly film him dancing when he thought nobody was watching. He then made appearances - usually for a single scene - in many films made by his grandfather and father Rakesh Roshan, and was considered a lucky charm. In 1986's Bhagwan Dada, he had a speaking role opposite Govinda.

Before resuming his career in front of the camera, Hrithik assisted his father behind it. Most notably, he was assistant director for Karan Arjun, starring Salman and Shah Rukh Khan, 20 years ago in 1995.

Hrithik's first heroine was Amisha Patel but it could well have been Kareena Kapoor, who was signed for Kaho Naa... Pyaar Hai and then quit because of the focus on Hrithik's role.

Hrithik's mother in the film was played by Asha Patel, Amisha's real life mom.

Hrithik's famous dance move in Kaho Naa... Pyaar Hai was choreographed by Farah Khan, who essentially jumpstarted the actor's second career as a dancer.

Two climaxes were filmed for Kaho Naa... Pyar Hai - one in which Hrithik's character dies and one in which he doesn't. The happy ending made the final cut.

Hrithik and future wife (as well as future ex) Sussanne Khan apparently met at a traffic signal, just as Rohit and Sonia do in Kaho Naa... Pyaar Hai.


Hrithik's
annus horribilis
was 2002. He had three films out, all of which flopped -
Aap Mujhe Achche Lagne Lage, Na Tum Jaano Na Hum
and
Mujhse Dosti Karogi!
His father's film
Koi... Mil Gaya
resurrected his career in 2003. It was the first of the blockbuster
Krrish
trilogy.
Hrithik was apparenty cast as SRK's younger brother in Farah Khan's
Main Hoon Na
. His brother-in-law Zayed Khan eventually ended up playing the role.
The horse Hrithik rode in
Jodhaa Akbar
reportedly figured out what the instruction 'action' meant. So director Ashutosh Gowariker had to avoid saying 'action' because the horse would take off instantly, even if it wasn't meant to.
Hrithik has spoken about being picked on at school because of his extra thumb. He also stammered when he was young, and has revealed that he still does sometimes.
Hrithik's favourite films include
Sholay, Dilwale Dulhania Le Jayenge, Pretty Woman
and
When Harry Met Sally
.
His favourite actors are Amitabh Bachchan, Raj Kapoor, Al Pacino, Richard Gere and Steve Martin.
Madhubala, Kajol, Madhuri Dixit, Julia Roberts and Helen Hunt are Hrithik's favourite actresses.