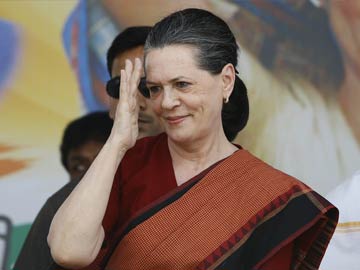 New Delhi:
Seeking to boost her party's campaign in Delhi for the Lok Sabha polls, Congress president Sonia Gandhi will address an election rally in the national capital today.
Although Congress' candidates are busy campaigning in their respective constituencies, party leaders say Mrs Gandhi's rally will bolster the party's flagging morale before Delhi goes to polls on April 10.
"Sonia Gandhi's rally will resuscitate the Congress. There will be a huge crowd in the rally," Delhi Congress chief spokesperson Mukesh Sharma said on Saturday.
Mrs Gandhi will address a public rally at Ajmal Khan Park in New Delhi constituency represented by Ajay Maken, who is now facing a triangular contest with the entry of Aam Aadmi Party. He is opposed by Bharatiya Janata Party's Meenakshi Lekhi and AAP's journalist-turned-politician Ashish Khetan.
According to experts, retaining Delhi's seven parliamentary constituencies would be an uphill task for the Congress whose image has been marred by a string of corruption scandals.
Major arrangements of transportation have been made to ensure there is a big crowd, said Mr Sharma.
"Buses and other means of transport have been arranged. People will come walking too. We are sure of an impressive turnout," he said.
The internal organisation of the Congress and the block committees are working round-the-clock to this end, said Mr Sharma.
"We have made four-five rounds of supervision. Senior leader Shakeel Ahmad and others too are monitoring the preparation," he said.
"This is a prestige issue for us. Our rallies during the assembly elections were reported in media to be a dismal show. The opposition too commented about it. This time we want to give them a befitting answer," he added.
Asked about the poor attendance in Congress rallies during last year's assembly elections, Sharma said: "People of Delhi have faith in Sonia Gandhi and Rahul Gandhi. There was enthusiasm in people for them, but the organisation let us down. The preparations were not adequate."