Shimla:
Unlike the intense, hard, heated
campaign in Gujarat
, the
campaign in Himachal
has been quite cool -8 degrees!
This was a local election, fought on local issues with local faces - six-time
Chief Minister Virbhadra Singh vs PK Dhumal
, who has served three terms. Both say this is the last election they will contest!
This has been an unprecedented election for this hill state in several ways, but here are 2 of them:
1.
Money Power: The Congress's VBS at the age of 83 was forced to travel in the hill state by road because he couldn't afford to hire a chopper. The BJP, on the other hand, ran a ritzy show. It had booked almost all hotels in Shimla. Its ads were all over newspapers, TV, radio. There were banners and hoardings for the party everywhere. In contrast, there was hardly any sign of the Congress.
2.
The election was fought largely in PM Modi's name and Mr Dhumal was announced as the Chief Ministerial candidate just 10 days before voting. The PM held over seven rallies in the small state.
After he completed his morning prayers, Mr Dhumal shared this photo with us.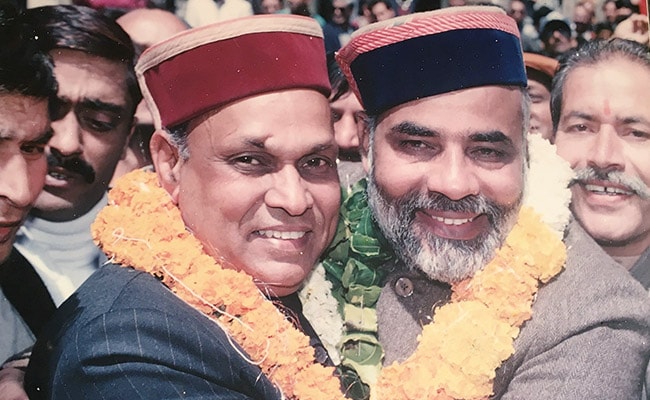 Dated March 24, 1998, this is when Mr Dhumal became Chief Minister for the first time and PM Modi was the state convenor. Mr Dhumal told me they maintain a deep friendship.