A cheetah on a locomotive engine: A three member screening committee headed by Satish Gujral, famous painter and architect, picked this logo designed by a student of the National Institute of Design (NID) in Ahmedabad for PM Narendra Modi's bullet train project, reported The Indian Express. The train, which is
expected to begin operating in 2022
, will run at a maximum speed of 350 km per hour and will cover the 508.17-km stretch in under three hours.
According to an official, the cheetah from the logo represents speed, while the red and blue lines, colours using which the logo has been designed symbolise calm and reliability.
Indian Express also reported that the contest invited an overwhelming response from across the country.
The logo has been incorporated into the website of National High Speed Rail Corporation Limited (NHSRCL), which is implementing the project of high speed train corridor between Ahmedabad and Mumbai.
The ambitious project will cost around Rs. 1.10 lakh crore.
Japan is giving a loan
of Rs. 88,000 crore for the project at a minimal interest of 0.1 per cent.
Around 1.6 crore people are expected to travel by the train every year when operations begin. The government says by 2050, around 1.6 lakh commuters will travel by the high-speed train on a day.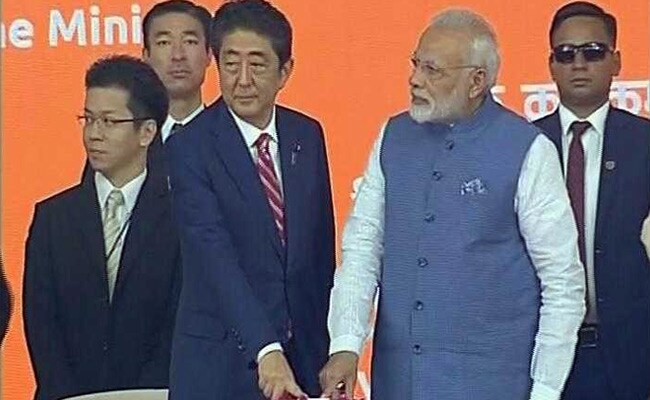 Prime Minister Narendra Modi and his Japanese counterpart Shinzo Abe at the launch of work on India's first bullet train
The route of Mumbai Ahmedabad High Speed Rail will be passing through two states, Maharashtra and Gujarat and one Union Territory, Dadra and Nagar Haveli, of the Union of India.
The High Speed Corridor of Mumbai-Ahmedabad has been proposed with 12 Stations i.e. Mumbai, Thane, Virar, Boisar, Vapi, Bilimora, Surat, Bharuch, Vadodara, Anand/Nadia, Ahmedabad and Sabarmati, all near major traffic points. Two depots are also proposed on either ends of the corridor, one near Thane and one near Sabarmati Rail Depot.
The applications for the logo were accepted between April 19 and May 18 and the selection committee received around 100 entries.
The screening committee for the logo selection also included a Niti Aayog member and an NHSRCL official.
"Three entries were shortlisted after initial screening. The top entry was selected from NID, Ahmedabad, the second from the School of Planning and Architecture in Delhi, and the third from the NID in Bengaluru," the
official told The Indian Express
.
Click here for more Education News
Get Breaking news, live coverage, and Latest News from India and around the world on NDTV.com. Catch all the Live TV action on NDTV 24x7 and NDTV India. Like us on Facebook or follow us on Twitter and Instagram for latest news and live news updates.