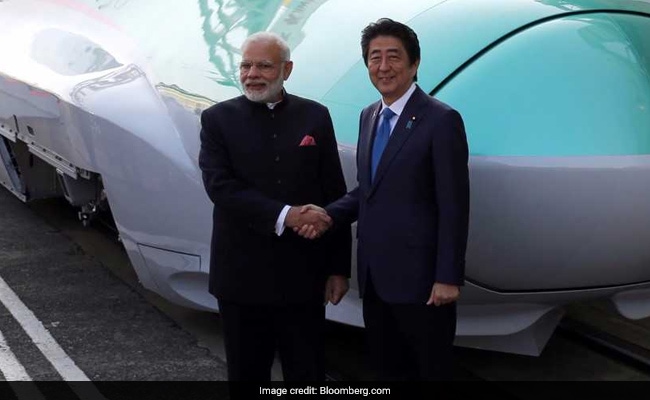 Highlights
India set to import iconic 'Shinkansen' bullet-train technology
PM Modi is counting on the project for creating more jobs
Japan has pitched quality as the primary selling point to India
Japan's government and its rail companies lobbied the U.S. for years to sell their bullet-train technology and found little success. Finally, there's an international buyer: India.
India is poised to become the first to import the iconic 'Shinkansen' bullet-train technology after Japan's near-neighbor Taiwan, and that will be a highlight of India's infrastructure upgrade program. The Japanese government has also agreed to fund most of the $17 billion needed for the project that will become part of Asia's oldest railway network.
On Thursday, Prime Minister Narendra Modi and Japan's Shinzo Abe formally kicked off a plan to build the 316-mile bullet train line -- roughly the distance between Los Angeles and San Francisco. Financing by Japan also means business farmed out to companies such as Kawasaki Heavy Industries Ltd., Hitachi Ltd. and East Japan Railway Co. and an opportunity lost for China's CRRC Corp Ltd. and European manufacturers including Alstom SA.
For Japan, which is locked in a strategic rivalry with China for commercial contracts abroad, the Indian project marks a hard-fought victory as companies including Siemens AG, Bombardier Inc., Alstom and, lately, CRRC compete in a global market projected by BCC Research to be worth about $133 billion by 2019. After building the world's largest high-speed network since the start of the century, covering 80 percent of its major cities, China has been raising its profile.
"The competition between China and Japan, especially in the ASEAN region, has been fairly intense and in India, there will be more competition for other phases of the bullet train project," said Jaideep Ghosh, partner and head of transport at consultancy KPMG. "Japan has a longer history of operating the system without any fatalities. Politics and strategic considerations do play a part, but finally it is a commercial decision."
Trump Campaign
India isn't the only country in Asia that is offering potential in high-speed rail. China outbid Japan to win a $5.5 billion project in Indonesia in 2015, while the two countries are poised for a face-off again over a proposed Singapore-Kuala Lumpur link scheduled for completion by 2026.
President Donald Trump campaigned for improving infrastructure during elections. In February, ahead of a meeting with Abe, Trump even talked about high-speed railway lines. Trump told airline bosses that Japan and China "have fast trains all over the place. We don't have one," according to a transcript of a meeting he had with airline chiefs.
In 2010, Japan had offered to build high-speed rail in California as part of a $40 billion project after discussions with then Governor Arnold Schwarzenegger. In 2014, Abe said his government may provide financing to support Central Japan Railway Co.'s bid to provide maglev trains for a Washington-Baltimore line.
A bullet train on Indian soil is part of PM Modi's ambitious plan to modernize rail infrastructure after decades of underinvestment. He is pouring as much as 8.6 trillion rupees ($134 billion) to upgrade the congested and aging lines that daily carry the equivalent of Australia's population. The network was started under British colonial rule 164 years ago.
Soft Loan
PM Modi and Japan's PM Abe unveiled a plaque at Sabarmati in Gujarat to mark the inauguration of the project linking the financial capital of Mumbai with the economic hub of Ahmedabad. The Japanese government is financing 81 percent of the cost, with a $13.8 billion soft yen-loan carrying an interest rate of 0.1 percent.
Kawasaki Heavy and India's Bharat Heavy Electrics Ltd. will collaborate on the rolling stock, Abe said Thursday at the event. Bharat Heavy rose as much as 10.2 percent in Mumbai, the biggest intraday gain in a year.
PM Modi is also counting on the project to spur a manufacturing and employment boom. His government says it will create 20,000 construction jobs, apart from 4,000 direct and 20,000 indirect jobs for operations. Local companies such as Larsen & Toubro Ltd., Gammon India Ltd. and GMR Infrastructure Ltd. are also looking to win some of the contracts.
"We may be getting the technology from Japan, but most of the components for the bullet train will be sourced from India," PM Modi said in a speech at the event. "That's why our industry will have to manufacture world-class equipment, supply them on time, focus on zero-defect manufacturing."
Japan has pitched quality as the primary selling point to India -- a network that boasts zero fatal accidents in its more than half-century of history. Japan's relatively high initial costs can be offset by lower repair expenses over a lifespan of decades, Japanese officials have said.
Possibly Six More
"We will work closely with the Japanese government and JR East to actively respond to the introduction of the Shinkansen system to India," Hitachi spokesman Tatsuya Moriki said. JR East would like to contribute to the success of the project, spokesman Kengo Shikanai said.
A representative for CRRC didn't respond to a request for comments, while an Alstom spokeswoman declined to comment.
India is reviewing prospects for at least six more potential bullet-train corridors, including one that would connect Mumbai to New Delhi, although no decision has been taken. India has said it is in talks with Japan and other countries for those projects.
Highlights of the project:
The official target for completion is 2023. India says it will attempt to have it running a year earlier Total estimated cost is 1.08 trillion rupees While the train is designed to run at 350 kmph, it will operate at a maximum speed of 320 kmph, cutting down travel time between the two cities to about two hours from eight hours Most of the corridor will be elevated, but will include a 21-kilometer tunnel with seven kilometers under the Arabian Sea