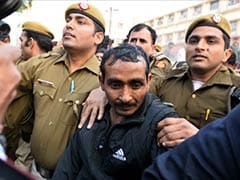 New Delhi:
A Delhi court today framed charges and decided to commence day-to-day trial from Thursday in the rape case involving the driver of US-based cab service provider Uber, who created a drama in the courtroom alleging he was not given a fair chance to defend himself.
Paving the way for trial, Additional Sessions Judge Kaveri Baweja framed charges against Shiv Kumar Yadav under various sections of the Indian Penal Code for alleged offences of endangering a woman's life while raping her, kidnapping her with an intent to compel her for marriage, criminally intimidating and causing hurt.
"The trial will proceed on a day-to-day basis from January 15 and prosecutrix would be examined first," the judge said after Yadav pleaded not guilty to the charges framed against him.
The police had filed the charge sheet 19 days after the incident on the night of December 5 last year when the 25-year-old victim, who was working for a finance company in Gurgaon, was raped while returning back home in Delhi's Inderlok area.
At the outset, when the judge asked 32-year-old Yadav to sign the charge order sheet, he created a drama alleging that he would not sign it as the arguments on framing of charges were not advanced in the court in his presence.
"I will not sign it. I will appoint a different lawyer. I was not given time to engage an advocate of my choice. I am not getting a chance to present my case. ... You can cut my hand ... but neither will I write anything nor will I sign it," Yadav told the judge.
On his refusal, the judge asked him "How can you say you were not present in the court when the arguments on charges were going on. At that time you were sitting in the court and you have chosen your counsel of your own and he had advanced the arguments on your behalf."
Later, after being assured by the judge that nothing wrong was being done to him and all legal procedures were being followed by the court, he agreed and gave it in writing that he was signing the order on charge at his own will.
Earlier, Special Public Prosecutor Atul Shrivastava had asserted that scientific, medical and other evidence showed beyond doubt that Yadav had raped the woman passenger.