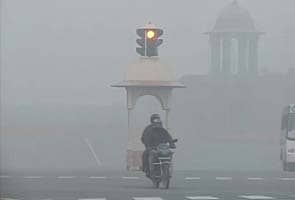 New Delhi:
Smog is all set to make a fiercer comeback to the national capital after Diwali, scientists at the India Meteorological Department have said.
Delhi was under the grip of smog for almost two weeks from October 27 to November 8, causing asthma and other breathing disorders to many. It is likely to return to the city tomorrow as there is a likelihood of a western disturbance coinciding with smoke from firecrackers, the weather department has said.
A high-level meeting of officials from Delhi, Punjab, Haryana and Uttar Pradesh discussed ways to tackle the problem on Saturday. The meeting was chaired by Delhi Chief Minister Sheila Dikshit.
The Chief Minister has said her government is contemplating a number of short and long term measures to improve the air quality in Delhi.
"Our government is really concerned over the reported pollution level and occurrence of dense smog over Delhi. We are considering a number of steps to check pollution," she said yesterday.
The city might soon announce a slew of measures like levying a fine of Rs 2,000 on polluting vehicles and setting up check posts on borders with Haryana and Uttar Pradesh to restrict entry of vehicles not destined to Delhi. Currently, a fine of Rs 1,000 is levied on vehicle not having a pollution under control (PUC) certificate.
(With Inputs from Agencies)