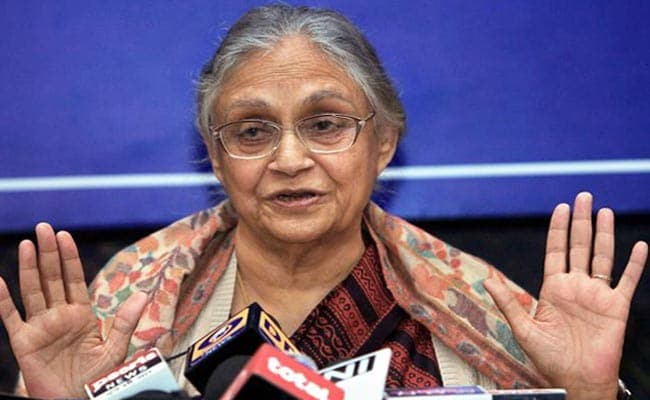 Highlights
Sheila Dikshit says allegations against her politically motivated
Sheila Dikshit faces probe in connection with 'tanker scam'
AAP accuses PM of protecting Ms Dikshit, dares Centre to arrest her
New Delhi:
Former Delhi chief minister Sheila Dikshit today dismissed as "politically motivated" the allegations linked to an alleged 400-crore water tanker scam, a day after a complaint against her was forwarded by Lieutenant Governor Najeeb Jung for investigation.
"The decisions were taken collectively by BJP MLAs, (civic body) members and the chief engineer. The tankers are still running," Ms Dikshit told NDTV, adding, "I don't know what the allegation is but it is politically motivated."
Mr Jung yesterday forwarded BJP lawmaker Vijender Gupta's complaint against Ms Dikshit to the anti-corruption branch (ACB) of the Delhi Police, which reports to the Centre.
A political war of words erupted soon after between the BJP and Delhi's ruling Aam Aadmi Party (AAP). Both traded charges of trying to cover up the scam.
Vijender Gupta has in his complaint accused Chief Minister Arvind Kejriwal of "suppressing" his government's inquiry report on the tanker scam for 11 months.
AAP hit back today alleging that Prime Minister Narendra Modi is trying to protect Sheila Dikshit. "The anti-corruption bureau and CBI come directly under him. What stopped him from acting against Sheila Dikshit for so long," questioned AAP leader Dilip Pandey.
Water Minister Kapil Mishra added: "We have submitted a report to the ACB. Why isn't Sheila Dikshit being arrested? We have given them two months - either arrest her or we will go where we have to. It is an agni-pariksha for the BJP on corruption."
The "tanker scam" relates to allegations that between 2008 and 2011, the Congress government led by Sheila Dikshit bypassed the rules and caused losses worth crores while awarding tenders for water tankers at much higher rates to undeserving companies.
"We have complaints about a scam of around 400 crore...the name of Sheila Dikshit is also there and we are investigating," said MK Meena, chief of the anti-corruption branch.
Sheila Dikshit was the chief minister of Delhi for three straight terms between from 1998 to 2013.
Her meeting with Congress president Sonia Gandhi yesterday sparked speculation that she could be fielded by the party as its chief ministerial candidate in Uttar Pradesh, where elections will be held next year.