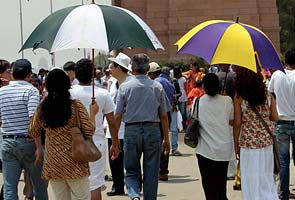 New Delhi:
Delhi experienced a hot Sunday as mercury soared above 37 degrees. The weatherman has predicted further rise in temperature in the next few days for the national capital. It said the temperature will oscillate between 22 and 38 degree Celsius on Monday.
The maximum temperature on Sunday was 37.1 degree Celsius, up from Saturday's 36.8 degrees. The minimum was recorded at 20.7 degrees, which is 0.6 degree down from Saturday's 21.3 degrees.
The maximum was one degree below normal while the minimum was four degrees below normal for this time of the year.
The humidity was recorded between 16 and 66 per cent.