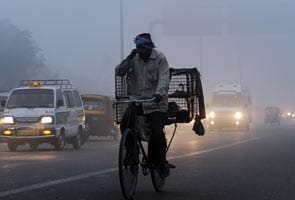 New Delhi:
Delhi ushered in the New Year with bone chilling cold and dense fog on Tuesday with mercury plummeting to the season's lowest of four degree Celsius, prompting people to wrap themselves up in more woolens.
Today's minimum was three degree Celsius below normal and down from the previous day's minimum of 5.5 degrees, which was the previous lowest for the season.
On Monday, the maximum was recorded at 13.3 degree Celsius, making it the coldest day.
North India continues to shiver with dense fog reported across Haryana, Punjab and Himachal Pradesh crippling rail and air traffic.
In Delhi, though, December fog conditions were mostly normal in 2012, with dense fog being recorded on just three days - between the 23rd and 25th.
Compared with past years, not many flights in and out of the capital have been cancelled or diverted this winter. This is thanks to CAT - III systems being operational throughout, enabling better visibility on Indira Gandhi International Airport's runways.
(With PTI inputs)