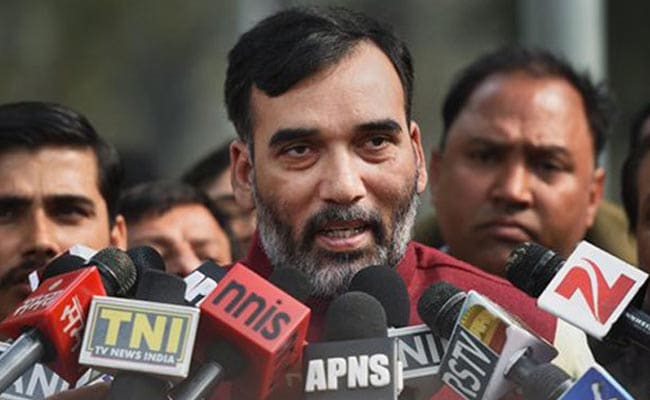 Highlights
Mr Rai faces corruption charges in app-based premium bus service scheme
He was to go to the Anti-Corruption Bureau today
Transport ministry given to Health and PWD Minister Satyendra Jain
New Delhi:
Aam Aadmi Party leader Gopal Rai was relieved of the charge of the Transport Department as sought by by him on health grounds and the portfolio has now been given to his cabinet colleague Satyendra Jain.
Last week, Mr Rai requested Chief Minister Arvind Kejriwal to relieve him from the responsibility of Transport Department on health grounds as he had recently undergone a major surgery.
Mr Jain, who is known to be close to Mr Kejriwal, already holds key portfolios of PWD, Health, Power and Home. The departments left with Mr Rai now include Labour, Irrigation and Flood Control, General Administration Department (GAD), Development and Employment.
"The Lt Governor of National Capital Territory of Delhi with Chief Minister of National Capital Territory of Delhi is pleased to allocate portfolio of Transport Department to Satyendra Jain, Minister," a notification issued by GAD on Monday said.
Mr Jain had temporarily taken care of the transport department for about 20 days when Mr Rai had gone under a surgery to get a bullet removed from his neck and then physiotherapy treatment in Hyderabad.
Mr Rai on Monday said he had requested the chief minister to relieve him from the Transport Department portfolio as it had a very heavy workload.
He has been undergoing physiotherapy, which is expected to last three months, at the Indian Spinal Injuries Centre and is housed in the hospital.
The two phases of the odd-even scheme were implemented under the leadership of Mr Rai as Transport Department was involved in the execution of the road-rationing plan on the ground.
Last month, he had announced Premium Bus Service Scheme to encourage the car users to leave their vehicles and use public transport.
However, the scheme came under the scanner of Delhi Government's Anti-Corruption Branch (ACB) as Lt Governor Najeeb Jung had refused to give his go-ahead to the scheme.