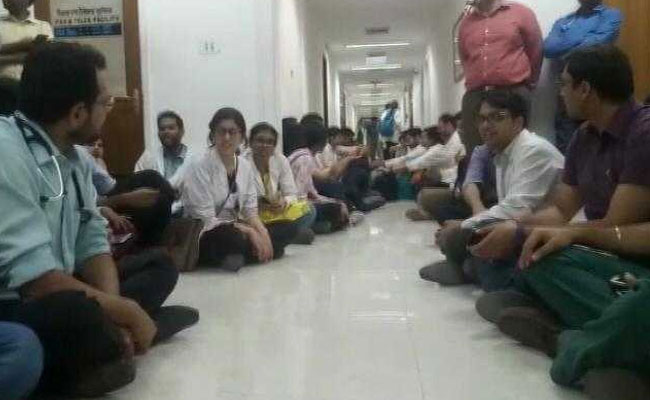 New Delhi:
Today is the third consecutive day of the
ongoing indefinite strike
called by the resident doctors of the All India Institute of Medical Sciences (AIIMS). The health care services in the hospital remained affected.
The strike was called in after one of the resident
doctor was allegedly slapped
by a senior doctor in front of patients and other staffers.
The routine surgeries remained cancelled, out-patient clinics functioned in a restricted manner and patients seeking Out Patient Department (OPD) consultation were sent back due to the strike.
Only the emergency and ICU services functioned.
The senior doctor, who heads a department at the premier institute, has tendered a written apology for assaulting the resident doctor and proceeded on leave on the directions of an internal probe panel.
The resident doctors, who have been on the protest strike since Thursday evening, paid no heed to AIIMS Director Randeep Guleria's appeal to call off their strike and return to work.
"The senior doctor has been sent on leave. We want the administration to suspend him. Till he is suspended we will continue our strike," a doctor participating in the strike said.
The hospital administration has put in place a contingency plan for patient care services, as a part of which faculty-on-call in all clinical departments will physically man the in-patient wards.
"OPD services will function on restricted basis till such a time that normalcy is restored. Only follow-up patients with prior appointment will be registered in OPD. New Patients OPD registration will be done as per availability of faculty in respective OPD as decided by Head of Department/Unit concerned. No walk-in registration (new and old) will be done," an order issued by the administration stated.
In a letter to Mr Guleria, the Resident Doctors Association has alleged that the senior doctor slapped a senior resident in front of attendees, nursing staff and colleagues, and that the resident doctor was in depression.
The RDA said an atmosphere of fear existed in the department headed by the senior doctor, and that nobody protested as the chief threatened to fail the junior doctors.
The RDA has written to Union Health Minister JP Nadda, who is also the president of AIIMS, seeking revocation of Padmashree and Dr BC Roy awards to the senior doctor.
"We reprimand all his actions and request you to consider revoking his BC Roy and Padmashree awards, as we believe that he is not worthy of holding such prestigious awards," they said in their letter.
(With Inputs from PTI)