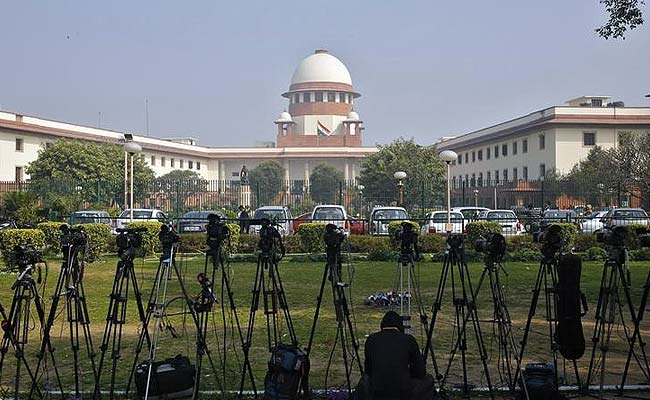 New Delhi:
The Supreme Court today commenced final hearing on appeals of four condemned convicts in the December 16 gangrape and murder case against the Delhi High Court order upholding their death sentence.
A bench headed by Justice Dipak Misra started hearing appeals of the convicts, who contended that the High Court had erred in its finding and had wrongly upheld the trial court judgement awarding them death sentence.
The bench, also comprising Justice V Gopala Gowda and Kurian Joseph, asked advocate ML Sharma appearing for two convicts -- Mukesh and Pawan -- to start the argument.
Besides, Mukesh and Pawan, the other two convicts, Vinay Sharma and Akshay Kumar Singh, in the case had approached the Supreme Court against the Delhi High Court's March 13, 2014 verdict, which had termed that their offence fell in the rarest of rare category and upheld the death sentence awarded to them by the trial court.
The 23-year-old paramedic was brutally assaulted and gang-raped by six persons in a moving bus in South Delhi and thrown out of the vehicle with her male friend on the night of December 16, 2012. She died in a Singapore hospital on December 29.
The prime accused, Ram Singh, had been found dead in a cell in Tihar Jail in March 2013 and proceedings against him were abated.
On August 31, 2013, another accused, a juvenile at the time of the crime, was convicted and sentenced to three years in a reformation home. He was released from observation home in December last year.
During the arguments, ML Sharma questioned the testimony of the victim and said as per the chargesheet, the victim was so critically injured that she could not have recorded her statement before the magistrate, or could have been able to give a dying declaration, thus it could not be relied upon.
He also questioned the matching of DNA samples of the accused, saying the victim was so weak after the incident due to excessive blood flow from her body that blood of other person was transfused into her body, which would in all likelihood mean that she will have two DNAs.
Ml Sharma, citing the Singapore hospital autopsy report of the victim, said there was no injury to her private parts.
"As per chargesheet, the main allegation of prosecution was that an iron rod was inserted into victim's private parts but the Singapore hospital autopsy report says there was no such injury," he said.