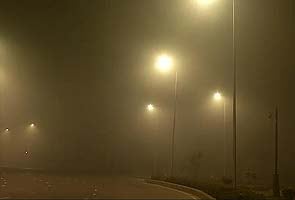 New Delhi:
Severe cold wave continues to sweep North India with mercury plummeting to season's low in many places. The national capital experienced its coldest New Year Day on Monday with temperature dropping to 4 degree Celsius.
Today too the lowest temperature of the city was 4.8 degrees Celsius. The lowest day temperature of the season so far in Delhi was on December 31, 2012, at 13.3 degrees Celsius.
Western Uttar Pradesh and Bihar were the worst affected states in the month of December due to dense fog and low temperatures. Fog engulfed these regions from December 13 onwards.
Meanwhile, Delhi continued to be blanketed by a thick fog cover with the visibility in the city dropping considerably early in the morning.
The general visibility at the main runways at the Indira Gandhi International Airport was around 50 metres which delayed nearly 30 flights.
Air India's flight (AI 314) from Hong Kong was diverted to Mumbai, while seven flights were cancelled today, either due to poor weather at destination or due to operational reasons.
On Monday, the flight schedule of around 40 flights was disrupted. New Year's Eve was also the coldest night of the season in Delhi, and 16 flights were delayed overnight.
The whole of North India is experiencing severe winter chill and dense fog crippling rail and air traffic in Haryana, Punjab and Himachal Pradesh.
The Met Department has predicted that the region will continue to experience cold and foggy condition over the next few days.
(With inputs from agencies)