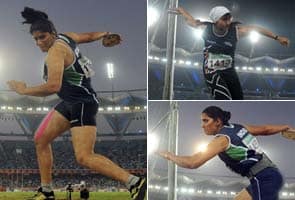 New Delhi:
Krishna Poonia won India's firstCommonwealth Games athletics gold medal in 52 years on Monday when sheled a host nation clean sweep in the women's discus.
Poonia threw61.51 metres to share an historic day with second-placed teammateHarwant Kaur and third-placed Seema Antil, collecting only thecountry's second gold medal ever.
The first was won by Milkha Singh in the 440 yards in Cardiff in 1958.
Theroar that reverberated around Jawaharlal Nehru Stadium when each of thethree Indian throwers stepped into the ring doubled in intensity whenthe crowd greeted the three medals' triumph. .
It all happened early in the competition.
Poonia threw her winning distance in the first round while Kaur and Antil were second and third at the end of that round.
Kaur threw her best in round three while Antil stayed with her first effort of 58.46m for the bronze.
Defending champion Elizna Naude of South Africa finished seventh