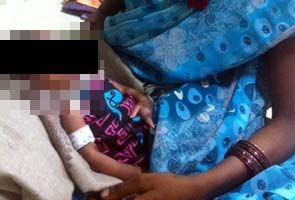 Hyderabad:
The parents of a baby boy who was born at a state-run hospital in Hyderabad have said that three of his fingers were gnawed off by a cat, and that the hospital staff tried to conceal this information.
The police and the state's human rights commission are investigating the complaint.
The child was born on November 18.
His parents, both daily wage earners, say that hospital officials wrapped up his hands in bandages to conceal their negligence and his injuries.
Earlier this week, he was sent to his parents' village in an ambulance; the parents say they were told not to show the baby to anyone or to remove his bandages.
On Tuesday, they discovered his injuries and complained to the hospital.
Hamsamma, grandmother of the victim said, "The hospital staff admitted to my daughter that a cat had bitten the baby. She claimed such a thing has never happened before in the hospital. When I asked the doctor, she said it is their responsibility and they will take care of him. But asked us not to tell anyone about this."
The baby is now being treated at another hospital where, the police says, the cause of his injuries will be determined by forensic experts.
Doctors at the hospital where he was born did not want to be named, but said that scratches on his face and his missing fingers were the results of complications during pregnancy and delivery.
However, the parents counter that this is a cover-up because they were never informed about the alleged complications; their son's medical records also do not state that there were congenital or other problems.