Chennai:
A section of a major road in Chennai caved in as heavy
rain continued to pound the city as also other parts of Tamil Nadu
.
A huge crater appeared on the road near the Madhya Kailash signal, situated close to IIT Madras, forcing authorities to redirect traffic on the busy stretch.
Waterlogging was also reported in many parts of the city which received upto 6.4 cm of rain till 8:30 this morning over a 12-hour period. Flight operations were also disrupted due to the rain.
The Met department has forecast more showers - scattered to very heavy at times - tomorrow in Chennai, northern coastal Tamil Nadu and the interiors following a trough of low pressure southwest of Bay of Bengal.
Schools and colleges remained shut for the second consecutive day in Chennai, Kancheepuram, Tiruvallur and Cuddalore districts due to heavy rain, This is the sixteenth rain holiday for Chennai's educational institutions which had
reopened on Thursday
after a two-week break.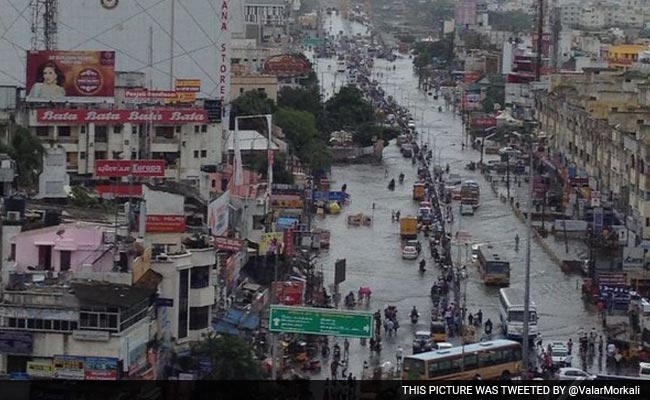 The incessant rain in the last couple of weeks has also led to postponement of university exams. Many schools, worried about the long break forced by rain, have decided to work longer hours and shorten Christmas holidays.
Unprecedented rain on November 16 caused
flooding in most parts of Chennai
, bringing the city to a standstill. While water receded in most parts of the city within a week, many low-lying areas, including Varadarajapuram and Bharathi Nagar on the outskirts, still remain inundated.
Earlier, Chief Minister J Jayalalithaa said that the state had, in just one month, received the entire rain that it gets during the three-month-long north-east monsoon season.
At least 184 people have died the state in rain-related incidents. The state government has sought a Rs 8,500 crore relief package from the Centre. Last month,
Prime Minister Narendra Modi announced Rs 940 crore for the state
even though Chief Minister Jayalalithaa had written to him, seeking an immediate package of Rs 2,000 crore.
On Sunday, a central team inspected flood-hit regions in the state to assess damage.