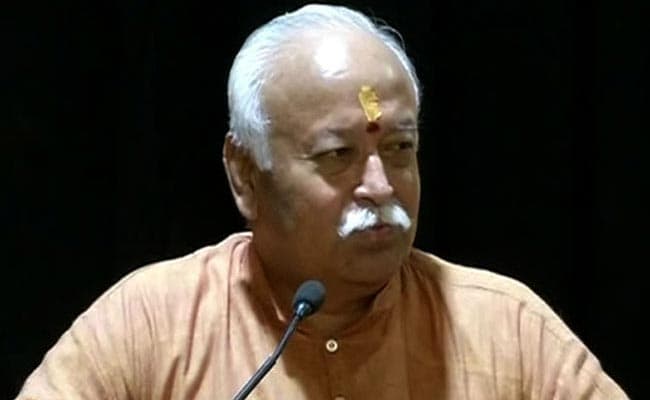 New Delhi:
Amid a political storm over Rashtriya Swayamsevak Sangh or RSS chief Mohan Bhagwat's suggestion that the country's reservation policy should be reviewed, the ruling BJP has said it does not favour "any reconsideration of the existing constitutional provision of reservation."
Following are the 10 latest developments in this story:
"The BJP very firmly supports the constitutional reservation for the SC, ST, OBC, Backwards and Extremely Backwards classes," the party said adding it "believes that reservation is important for the social, education and economic development of these groups."

But it also said in its statement, "The BJP is further of the view that if further measures are suggested for those who are economically and socially backwards, then the same is welcome."

In an interview to the Organiser, a magazine associated with the RSS, Mr Bhagwat said quota has for years been used as a political tool and suggested that a "non-political" committee be set up to examine who needs the benefit of reservation and for how long.

Mr Bhagwat also said, "Reservation for socially backward classes is the right example in this regard. If we would have implemented this policy as envisaged by the Constitution makers instead of doing politics over it, then present situation would not have arrived. Since inception it has been politicised."

In Bihar, where crucial elections will be held next month, Lalu Prasad of the RJD immediately attacked the BJP in an attempt to rally the support of the backward castes who draw benefits from affirmative action.

Mr Lalu Prasad tweeted that Prime Minister Narendra Modi must clarify "if he will finish reservations at his master Bhagwat's bidding." The RSS is the BJP's ideological mentor and rival parties accuse it of interfering in the government's decision making and policy.

The BJP has partnered for the Bihar elections with three regional parties that have backward caste vote banks, to supplement its own upper class support base.

It must also balance the aspirations in other states of politically powerful upper castes like Patels in Gujarat and Jats in northern states who want to be included among beneficiaries of reservation.

Mr Bhagwat's comments came as 22-year-old politician Hardik Patel sought over the weekend to escalate his agitation for quota in government jobs and colleges for Gujarat's Patel community, many of whom, he says, are poor and underprivileged.

The RSS said today that Mohan Bhagwat has in his interview emphasised the need to ensure that "all weaker sections of society get reservation benefits as was the aspiration of the makers of the Constitution."