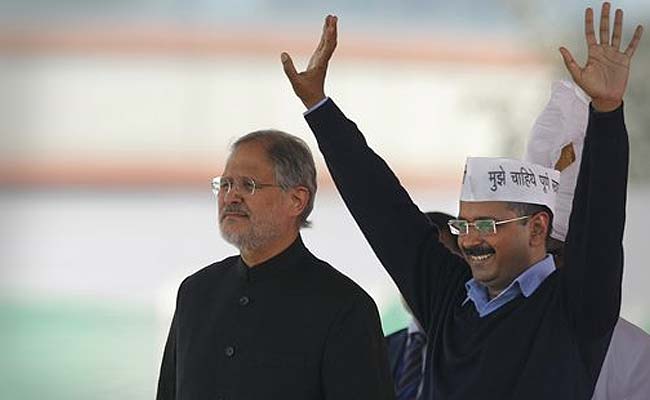 New Delhi:
Delhi Chief Minister Arvind Kejriwal has instructed officials not to follow any order from Lieutenant Governor Najeeb Jung without running it by him, in a rapidly escalating row that has reached President Pranab Mukherjee's doorstep.
Here are 10 developments in the story:
The Lieutenant Governor has met the President and is believed to have discussed his standoff with the Delhi Government over his decision to appoint IAS officer Shakuntala Gamlin as acting chief secretary. The Chief Minister also has an appointment in the evening.

A legal expert consulted by the Aam Aadmi Party (AAP) government has backed Mr Kejriwal. "There is no provision granting the LG the power to act at his own discretion in the matter of appointment of the chief secretary," said former Additional Solicitor General Indira Jaising.

In his latest move, Mr Kejriwal has issued a circular that says for smooth functioning, "it is hereby ordered that any direction or order, whether oral or written, received from Honorable LG or his office to the Chief Secretary or any administrative Secretary, shall first be submitted by the concerned administrative Secretary/Chief Secretary on the file to the Minister in charge and the Chief Minister for a decision."

Mr Kejriwal has cited rules under the Constitution, which, he alleged, the Lieutenant Governor had bypassed. "Delhi has an elected government. Earlier governments surrendered, we won't," said Deputy Chief Minister Manish Sisodia.

The new order came after the Lieutenant Governor wrote to the Delhi Government saying its decision to remove an officer and appoint another were "void" as he had not cleared it.

The officer who was removed, Principal Secretary Anindo Majumdar, was locked out of his office yesterday, reportedly on the Chief Minister's orders.

Mr Kejriwal and AAP have declared that Mr Jung has no say in such appointments and has overstepped his turf by unilaterally appointing Shakuntala Gamlin as acting Chief Secretary, which makes her Delhi's top bureaucrat.

Mr Kejriwal alleges that Ms Gamlin tried to favour power distribution companies in Delhi and acted against public interest. He has declared that he would keep close tabs on the officer in the 10 days that she would act as Chief Secretary.

"The LG stepped way out of his Constitutional duty. He is responsible for the crisis. He should resign," said senior Supreme Court lawyer Rajiv Dhawan.

Finance Minister Arun Jaitley called Delhi's "experiment" with AAP a "costly" one and said: "AAP has such a huge mandate, they must understand their responsibility and that people want governance, not controversies and disputes. But if they can't, then it is also our responsibility to make them understand."