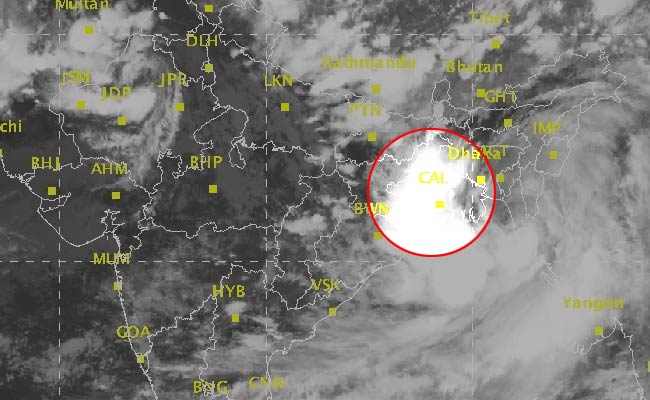 Kolkata: The Cyclone Komen has lost impact after making landfall in coastal Bangladesh this evening. While it has triggered heavy rains in West Bengal and Odisha, the meteorological office said the wind speed has dropped and there is no reason to panic.
Here are the latest developments:
Odisha is battling floods in five districts -- Jajpur, Mayurbhanj, Keonjhar, Bhadrak and Balasore. Officials said the heavy rains, triggered by the cyclone, can only worsen the situation.
Danger Signal Number Five has been sounded at all ports and administration officials of the five flood-hit districts have been told to stay prepared.
West Bengal Chief Minister Mamata Banerjee, who cut short her visit to London to personally oversee relief operations in Kolkata, said the state is fully prepared.
In Bengal, the areas where maximum rainfall is expected, include East Midnapore, North and South 24 Parganas, Hooghly, Howrah, Birbhum and Burdwan.
A task force set by the Bengal government has already moved 26,000 people across seven districts to relief camps. The state has set up 227 relief camps.
The Bengal government has launched the emergency helpline number 1070 for monitoring flood situation.
In villages across the Sunderbans -- which was hit badly by the cyclone Aila in May 2009 -- people have already moved to relief camps. Over 150 people had died in that cyclone.
Cyclone Komen has made landfall in coastal Bangladesh between Bhola and Sandwip. The wind speed is 60-80 km, which implies it is a marginal storm. It will decrease further to become a deep depression, the met office said.
Some of the deadliest storms in history have formed in the Bay of Bengal, including one in 1970 that killed hundreds of thousands of people in modern-day Bangladesh.
In 2013, one million people were forced to flee their homes when Cyclone Phailin hit India's southeast coast.