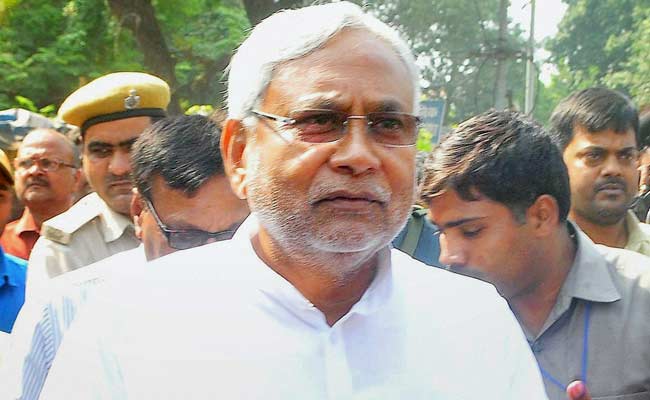 Darbhanga, Bihar:
Bihar Chief Minister Nitish Kumar raked up Prime Minister Narendra Modi's 'DNA' remark on the last day of campaigning for the final phase of polling and asked the people to reply to the barb by voting in favour of the grand alliance on November 5.
"Prime Minister Narendra Modi did not remember for 14 months to visit Bihar, which gave him 31 out of 40 seats in Lok Sabha polls. I went to receive him at the airport in Patna as the PM was coming to participate in a government function (in July). But the Prime Minister, later, at Muzaffarpur questioned my DNA," Mr Kumar told a public meeting in Hayaghat in Darbhanga district.
He asked the crowds, "The Prime Minister said there is something wrong with my DNA. Does it behove the Prime Minister? Does it go with the dignity attached to the post? If my DNA is wrong, then why you (people) elected me the Chief Minister twice?"
Trashing PM Modi's accusation that he was arrogant, the chief minister said he is not one but a "Bihari who will not let anyone go unchallenged if he attacks the self-respect of Bihar and its people".
"If (you think) my DNA is not wrong, then give them (BJP) a reply by voting in favour of secular alliance on November 5," he said.
PM Modi, while attacking Nitish Kumar at a rally in Muzaffarpur on July 25, much before the poll dates were announced, had said there was "some problem with Nitish Kumar's DNA", while referring to the frequent changes in his political allegiance.
Mr Kumar had reacted sharply and swiftly to the remark describing it as an "insult" to the people of Bihar. PM Modi's DNA comment was one of the major issues raised by the grand alliance during electioneering.
Campaigning for Janata Dal (United) candidate Amarnath Gami, Mr Kumar said, "Why does Narendra Modi despise me? He has become the Prime Minister, while I am only the chief minister of a state. Why has he problems with me?"
Mr Kumar asked what happened to PM Modi's poll promises of depositing Rs 15 lakh in every individual's bank account from the black money brought back to the country and creating two crore jobs annually.