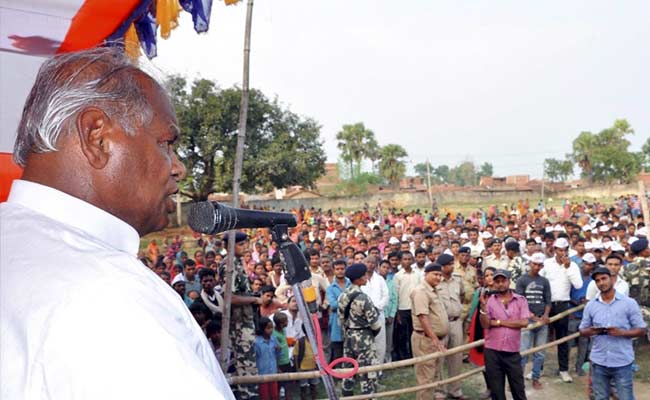 Patna:
The BJP has not projected any chief ministerial face but its ally Jitan Ram Manjhi made it clear this morning that he was ready for another shot at the top post, from which he was sacked earlier this year.
(Live: Bihar Results 2015)
"I have never expressed my desire to become the chief minister nor have I ever declared myself to be the chief ministerial candidate. But if a situation arises where the people want me to become their leader, then will not back away from the responsibility and accept it," Mr Manjhi told the news agency ANI, when asked on his chief ministerial prospects.
(Bihar election Results: Full coverage)
Mr Manjhi formed the Hindustani Awam Morcha after he was expelled by Nitish Kumar's JDU and forced out as chief minister earlier this year. (
Bihar Election Results: Constituencies)
Mr Manjhi, belonging to the most backward caste of Dalits or Mahadalits, was made Chief Minister after Mr Kumar took responsibility for his party's disastrous result in Bihar in last year's national election. He refused to make way for Mr Kumar's return to office in March and was thrown out.
(Bihar Election Results: Personalities)
Before the Bihar election, Mr Manjhi joined hands with the BJP.
"Nitish's government won't come back again. Everything is at a breaking point as it is with Bihar witnessing Jungle Raj right now.
(Bihar election Results: Party Summary)
When Nitish broke off from the BJP in 2013 there were rampant rapes, farmer suicides, and bank robberies. It will be a black day in Bihar if Jungle Raj makes a comeback," Mr Manjhi said.
Before the counting began, Nitish Kumar's ally
Lalu Yadav told reporters at his home: "Good morning, we are winning."
The BJP has not projected any chief ministerial candidate but has not given Mr Manjhi any reason to expect the top job either.
(Bihar election Results: Candidates)
"Manjhi has the right to speak on behalf of his party. As far as BJP is concerned, we have not given any such indication nor have we decided on a name," BJP chief Amit Shah was quoted as telling a private channel.