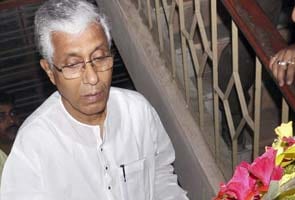 New Delhi:
Tripura had no doubt about who it wants in government. For the fifth time in a row, the alliance led by the CPI-M will lead the state. And the Left has 64-year-old Manik Sarkar to thank.
Mr Sarkar, who has been chief minister since 1998, has delivered an even stronger result in these elections than in 2008. The CPI(M) and its allies have won 50 out of the 60 seats.
(Manik Sarkar, who Tripura can't get enough of)
The Congress scraped together 10 seats. At a rally in the state capital of Agartala two weeks ago, Congress vice-president Rahul Gandhi said that just as the Left had lost states like Kerala and Bengal, "I am sure that in two three days CPM government will go here and the Left will be thrown out of India."
That claim has belly-flopped.
Mr Sarkar's credibility is pivoted around his honesty and his commitment to running a graft-free government. He is the poorest chief minister in the country, with a monthly salary of Rs 5,000. He owns neither a house, nor a car. Mr Sarkar is known for working 12-hour days and being passionate about cricket and movies.
93 per cent of Tripura voted in these elections. Large turnouts usually indicate anti-incumbency. But Meghalaya and Nagaland have also chosen to re-elect their ruling allowances.