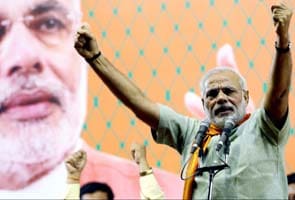 Bangalore:
Narendra Modi
arrived in Karnataka to campaign for his party for the first time before the state decides on May 5 whether it will return the BJP to power.
Mr Modi played to type, focusing much of his speech against Sonia and Rahul Gandhi, the top two leaders of the Congress party.
He didn't name them, but Mr Modi targeted Rahul Gandhi who said recently that his mother had warned him that "power is poison."
"No son disobeys his mother but in Congress, the mother is continuously saying 'power is poison' and the son is campaigning in Karnataka saying 'give us power.' Whom do we believe?" he asked. (
Highlights of his speech
)
Mr Modi also targeted Mr Gandhi, 43, who was recently anointed Vice President of the Congress, making him second in the party's hierarchy, second only to his mother.
"I challenge Congress, I challenge Congress leaders born with golden spoons to compare a five-year-term of Congress and a five-year-term of BJP... BJP will emerge victorious," Mr Modi said.
Mr Modi's rhetoric was familiar, as his star power was on display as thousands of people in the rally at south Bangalore chanted his name during speeches by other leaders who preceded him. Mr Modi had to frequently urge the crowd to let the others speak.
But the fact is that Mr Modi knows that Karnataka is going to be a tough battle for his party, whose term in power had been splattered with corruption and insidious infighting. Therefore, sources close to him say he doesn't want to be too closely associated with the campaign that could be unsuccessful. Since his re-election as Gujarat chief minister in December, Mr Modi has been vying for his party's prime ministerial nomination.
If the BJP loses Karnataka, despite his appearances there, his image as an indisputable vote-getter could be dented.