Rajahmundry:
27 people, most of them elderly women, were crushed to death this morning in a stampede on the banks of the River Godavari in Andhra Pradesh on the first day of a major religious festival. At least 25 people were injured.

The tragedy occurred at the same ghat or steps leading to the river where Chief Minister Chandrababu Naidu took a dip early this morning in the Rajamundhry district on the border between Andhra Pradesh and Telangana.

The stampede started after a woman fell down in a crowd pushing to get through a narrow entrance after the ghat was opened to the public. The Chief Minister had left a few minutes earlier after his dip in the river and a Pooja that lasted over an hour.

"My wife is lying there, her legs are broken. Why did they take this on if they could not organise it well?"asked a young pilgrim.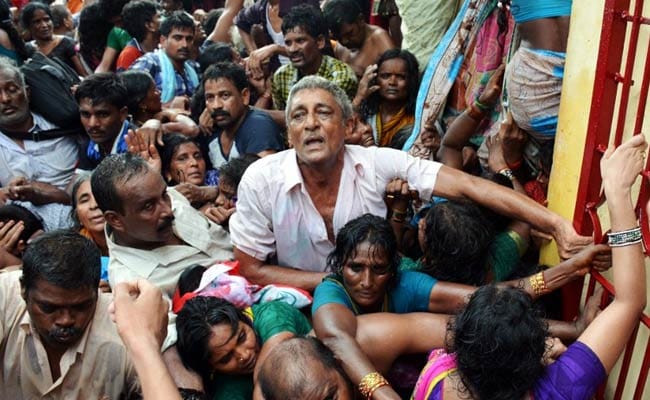 (The stampede started after a woman fell down in a crowd pushing to get through a narrow entrance)
The Andhra government had announced that extensive arrangements worth 1,500 crores had been made for the 12-day festival of "Maha Pushkaralu", a religious festival that occurs once every 144 years, based on astronomical configurations.

Andhra Pradesh government spokesperson Parakala Prabhakar said the ghat where the stampede took place was near the railway station where four trains pulled in early this morning, packed with pilgrims, which led to an unexpected surge. Eyewitnesses say despite appeals, officials failed to divert crowds to five other ghats that were less crowded.


Chief Minister Naidu spent some time in the police control room overseeing arrangements after the tragedy shocked both devotees and officials.
"When I was leaving, I saw huge crowds and asked barricades to be put up... despite the best arrangements, this happened," a visibly upset Mr Naidu said.
The government expects nearly three crore pilgrims over the next 12 days.
The start of Maha Pushkaralu coincides with the official beginning of the larger Kumbh Mela festival being held this year in Nashik in Maharashtra.