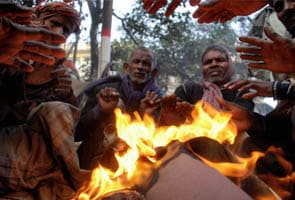 Agra:
The city of the Taj Mahal, already frozen in the minimum temperature of 1.6 degrees Celsius, was completely enveloped in a thick layer of fog early Friday morning, a weather official said.
The fog reduced visibility to a few metres, and disrupted movement of a large number of trains.
The temperature was slightly above Thursday's 0.6 degree Celsius, which was the lowest temperature recorded in the region this season.
The schools were closed till Monday. Friday being a weekly holiday, the Taj Mahal was also closed for the visitors.
Due to the intense cold wave in the region, three people died in Mainpuri Thursday, and one each in Mathura, Agra, Firozabad and Etah, state officials said.
Several street dogs and a bull were also died due to cold.
A large number of trains were running late due to fog. The Agra-Delhi Inter-city was cancelled Thursday.