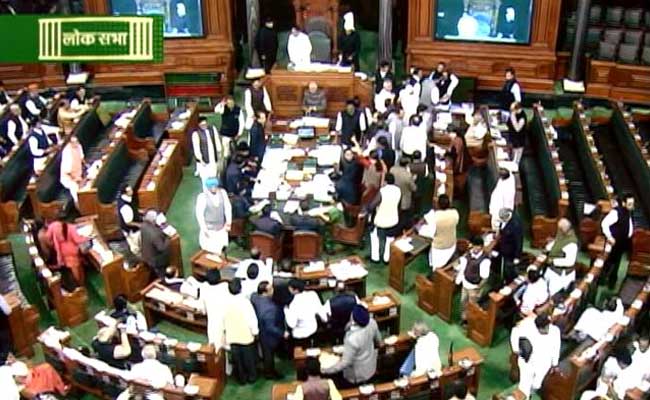 New Delhi: Angry exchanges between the government and opposition were witnessed in the Rajya Sabha today over the suicide of Hyderabad research scholar Rohith Vemula, forcing the Upper House to adjourn for the day without any debate on the issue. The Lok Sabha, however, debated the Rohith Vemula suicide and the JNU controversy.
Following are the top quotes from Parliament today:
Inside Parliament, the ministers of this government take oath of constitution and outside they crush it. Using government machinery they are crushing the voices of those who oppose the ideology of RSS.

Jyotiraditya Scindia, Congress

Yesterday, the President mentioned how this government is working towards repealing obsolete laws. May I suggest that sedition be one of them.

Sugata Bose, Trinamool Congress

Here we are shouting and screaming at each other, unable to address the real problem. Pained to say India's youth does not deserve us.

Tathagata Satpathy, BJD

In my 20 months as minister, I have served my country, people without prejudice. I didn't ask for their religion or caste.

Smriti Irani, BJP

Answer me, was Afzal Guru a terrorist? If not why did your government (UPA) hang him?

Anurag Thakur, BJP

For them (Gandhis) it is family first, party next, nation last. For us, it is nation first, party next, self next.

Anurag Thakur, BJP

Nobody can brand an entire university or all students anti-national. Some fellow inspired by Maoist ideology are trying to misguide them.

Venkaiah Naidu, BJP

Caste based discrimination and oppression in our universities is a reality. It has been there for a long time, and not since PM Modi came to power.

Anupriya Patel, Apna Dal

Will the BJP give a certificate of patriotism? And will the Congress give a certificate of secularism?

Asaduddin Owaisi, AIMIM

Nobody can brand entire university or entire students as anti-national. Some fellows inspired by Maoist ideology are trying to misguide them. JNU is a great university, we want it to flourish.

Mulayam Singh Yadav, Samajwadi Party
For the latest News & Live Updates on Election Results from each assembly constituency in Madhya Pradesh, Rajasthan, Mizoram, Chhattisgarh, Telangana, like us on Facebook or follow us on Twitter for updates.