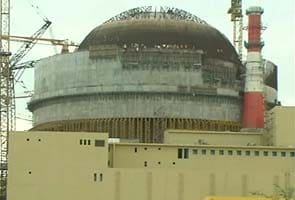 Chennai:
Betting on Kudankulam Nuclear Power Plant to bring some immediate relief to the power-shortage hit state, Tamil Nadu Chief Minister Jayalalithaa today said it was expected to go on stream in another two months, as she charged DMK with doing little to enhance capacity in its entire term.
Her statement on Kudankulam came nearly 10 days after her cabinet gave the go-ahead for the controversial Indo-Russian joint venture, that had hit a nine month roadblock due to protests by locals under an anti-nuclear lobby.
In a suo motu submission in the Assembly, she also rolled out a series of proposals to address the growing demand-supply gap, including mulling 1000 MW LNG-fired power generation.
"The Kudankulam Nuclear Power Project is expected to commence production in two months," she said adding her government proposed more thermal power for the state. However, she ruled out the possibility of more hydel power projects.
Recalling that her government had announced power generation projects to the tune of 3800 MW in the 2011-12 budget, Jayalalithaa proposed 660 MW Ennore Thermal Power replacement project.
She said it would be an 'environmental friendly' project with advanced 'Supercritical technology' in which less coal would be consumed and more power generated.
The expansion project replacing the four-decade old Ennore Thermal Power Station is expected to be commissioned by the end of 2015, Jayalalithaa said.
Commencement of the 1000 MW Vallur Thermal Power Project, jointly executed with Nuclear Thermal Power Corporation, 600MW North Chennai Thermal Power Station Stage two project and 600 MW Mettur Thermal Power Station Stage-three between 2012 and 2015 are in the pipeline, she said.