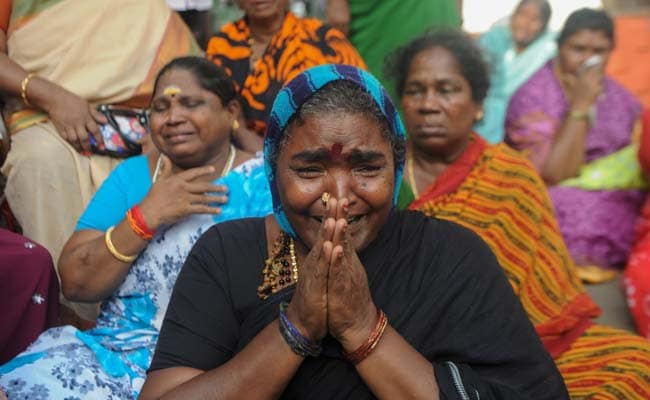 Highlights
Tamil Nadu Chief Minister had cardiac arrest last evening
Supporters often resort to self-harm, violence in show of loyalty
Police officials make elaborate plans to keep law and order
Chennai:
With Chief Minister
J Jayalalithaa in critical condition after a cardiac arrest
, Tamil Nadu is taking extreme precautions to ensure lakhs of her supporters, known for their passionate shows of loyalty, remain calm.
Senior police officers across the state have met with their teams to ensure cops in uniforms are visible on the streets to indicate the administration is in control of a delicate situation.
Outside Apollo Hospital in Chennai, where the 68-year-old Chief Minister was admitted in September, hundreds of people have gathered to resume the vigil held in the months before she was declared out of danger by her doctors.
Last evening,
she had a cardiac arrest
and was rushed back to Intensive Care from the private room she was moved to just weeks ago when her health was declared considerably improved.
Apollo Hospital has been discreet throughout her stay with its comments often taking a more cautious tone than that of the Chief Minister's party, the AIADMK, which has insisted that she has never been in any real danger after hospitalised.
When she was arrested in 2014 on charges of corruption, many of her supporters resorted to self-harm. Her party said 200 people killed themselves in protest. Women shaved their heads, a symbol of mourning; men set police vehicles and public buses on fire. From jail, Jayalalithaa appealed for order. She was acquitted about nine months later and resumed office as Chief Minister.
Since September 22, when she was brought to Apollo Hospital with an initial complaint of fever and dehydration, mass prayers have been held across the state. Some supporters performed sacrifices to try to change her fate. Images in the local media showed scores of children with metal arrows piercing their cheeks holding her pictures as they prayed for her recovery.
News agency Press Trust of India says arrangements have been made to airlift anti-riot police troops to Tamil Nadu if needed,
The news agency said that nine units of the Rapid Action Force with about 100 members each would be flown in by central paramilitary forces if needed.