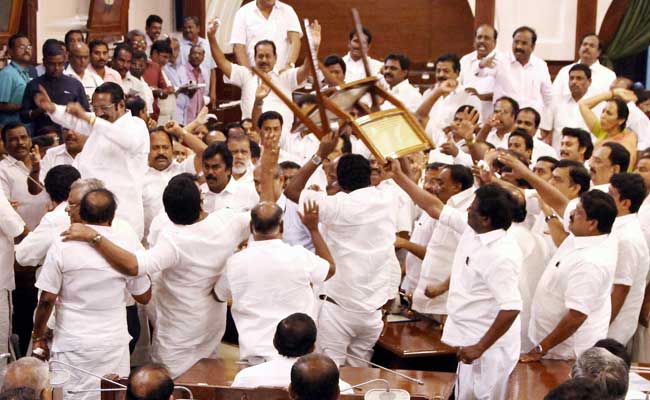 Highlights
E Palaniswami won the trust vote with support of 122 MLAs on Saturday
Madras High Court to hear DMK's request to cancel the vote tomorrow
DMK legislators were evicted by Speaker for violence in the house
Chennai:
The action-packed trust vote in the Tamil Nadu assembly that
Chief Minister Edappadi Palaniswami won
after hours of drama has been challenged by the opposition DMK. Its request to cancel the vote is likely to be heard by the Madras High Court tomorrow.
Governor C Vidyasagar Rao had yesterday
asked for a report on the assembly incidents
.
On Saturday, Mr Palaniswami sailed through the trust vote by winning 122 votes after 88 DMK legislators were evicted by Speaker P Dhanapal for violence in the house. The 11 votes against him were cast by the rebel faction in the ruling AIADMK, led by former Chief Minister O Panneerselvam.
DMK lawmakers have said that the trust vote is illegal because it was introduced twice - once in the morning and again after two adjournments in the house.
In the chaos that erupted after the Speaker first announced the trust vote - rejecting a demand by the DMK, the Congress and the AIADMK rebels for secret voting -
lawmakers moved chairs, toppled the Speaker's table, pulled out mics and heckled Mr Dhanapal
.
The Speaker was ring-fenced and led out of the house, after which a DMK lawmaker was seen sitting in his chair, signaling a complete collapse of order.
DMK lawmakers led by MK Stalin sat down on the floor of the house and protested when the Speaker ordered their eviction.
Mr Stalin's shirt was unbuttoned and dishevelled
when he was finally led out of the assembly along with his party legislators. He alleged that he had been manhandled by security personnel on the ruling party's orders.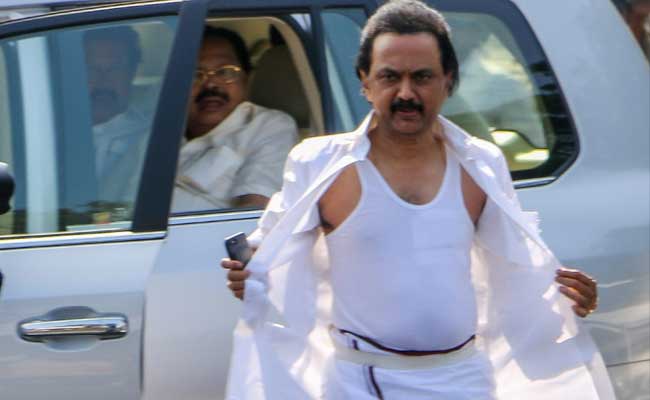 After the DMK's exit, the Speaker went ahead with the trust vote.
The Governor has been asked by Mr Stalin as well as Mr Panneerselvam to call for a fresh vote of confidence and secret voting.
Mr Panneerselvam, who fought to stay Chief Minister after revolting against his party chief VK Sasikala, alleges that over 100 AIADMK lawmakers were held captive at a resort near Chennai and forced to support Mr Palaniswami.