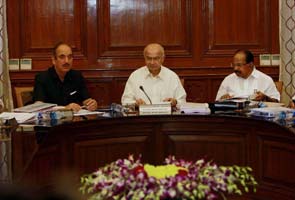 New Delhi:
Amid the raging protests over Telangana issue, the Group of Ministers (GoM) set up to look into the bifurcation of Andhra Pradesh, will today deliberate on issues concerning sharing of river water, power, distribution of assets and boundaries at its second meeting in New Delhi.
The high-powered ministerial panel will also look into the legal and administrative measures required to ensure that both Telangana and residuary state of Andhra Pradesh can function efficiently from Hyderabad as the common capital for 10 years.
The GoM, headed by Home Minister Sushil Kumar Shinde, was constituted to address all the issues that need resolution at the central and state government levels in the matter.
After its first meeting on October 11, the GoM had said that it would address all concerns of the people of Andhra Pradesh with "fairness and objectivity".
The GoM has already discussed the approach and methodology to be adopted by it and said it would take opinion of stakeholders on all important subjects while formulating its recommendations.
Following a directive of the GoM, various Central ministries and departments like Power and Water Resources have prepared status reports and these are expected to be submitted to the panel tomorrow.
With the status papers, the GoM could set out the broad contours for division of assets besides a special package for the restive Seemandhra region that is up in arms against the bifurcation.
Feedbacks from general public on the terms of reference were also sought by the GoM.
Two key members of the GoM - Finance Minister P Chidambaram and Defence Minister AK Antony - could not attend the last meeting due to different reasons.