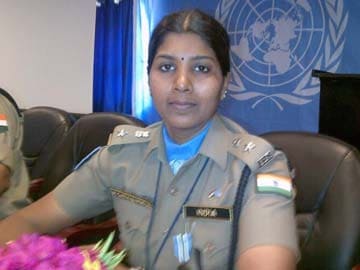 Chennai:
After serving in the trouble-torn Sudan for a year as part of the United Nations Peacekeeping Mission, Chennai-based IPS officer Sathya Priya expected appreciation from the Tamil Nadu government. But the officer returned home only to be served with a suspension order on the March 12 for allegedly defying a government directive to opt out after selection.
Ms Priya is the first woman cop from the state to have been chosen for the challenging role.
Sources close to the 41-year-old officer say that in 2010, she had obtained her department's approval to take the special exam. The state police department, they claim, had also relieved her from responsibilities and directed her to take up the UN assignment. The Home Ministry then confirmed her name to the UN.
However, they say that just before her departure last year, the state police called her back. But the Home Ministry wanted her to go. Caught in between, the sources argue, she had no option but to go ahead. Defying the Home Ministry, one of them says, "would have debarred her from any UN assignments besides action by the central government."
NDTV accessed the letter issued by Tamil Nadu police chief which clearly shows that the officer was permitted to attend the UN assignment in Sudan. The letter form the Home Ministry too cites the state government's earlier approval.
However, a highly-placed officer at the Police Headquarters in Chennai told NDTV, "Sathiya Priya was allowed to go hoping that the government would ratify. But it was refused and she was even served a memo. Now it's purely a matter to be decided by the government."
The woman officer, who has put in 17 years of service with the Tamil Nadu Police, may have to face a probe.
A source close to Ms Priya said, "In Sudan she served in a place where they often heard the sound of bullets. She is the first woman officer from Tamil Nadu to get this honour. The UN even awarded her with a medal. Now with this suspension, see what she has to go through."