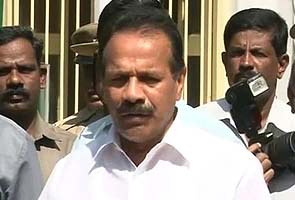 Bangalore:
Hitting back at BJP state strongman BS Yeddyurappa's veiled attack on him for alleged laxity in management of severe drought during his tenure, former Chief Minister DV Sadananda Gowda on Tuesday said that the veteran leader should have discussed the issue in party circles.
"A senior leader (Yeddyurappa), who has the experience of ruling the state for over three years as chief minister, should have discussed the issue with the Chief Minister and other senior party leaders," he told reporters a day after his friend-turned foe attacked him in the Assembly.
He said it was unfortunate that the former chief minister raised the issue on the floor of the Assembly. "He could have raised the issue in party circles and suggested ways to take up drought relief measures."
Mr Gowda, who bowed out of office earlier this month after the central leadership yielded to pressure from the Yeddyurappa group, said he was not keen on reacting further on the issue as the former chief minister was a senior leader.
Speaking during a debate on drought in the Assembly on Monday, Mr Yeddyurappa had hit out at the government for its alleged laxity in the implementation of relief measures to tackle drought and appealed to chief minister Jagadish Shettar, who succeeded Mr Gowda, to waive crop loans borrowed by farmers last year.