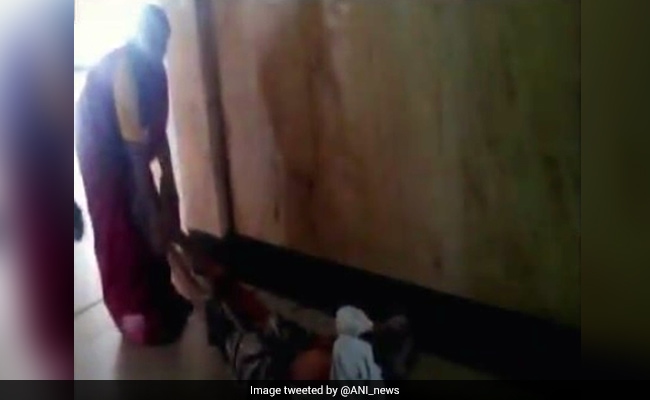 Bengaluru:
An elderly woman drags her 75-year-old husband on the floor of a hospital in disturbing visuals that have emerged from a government hospital in Karnataka's Shivamogga.
Earlier this week, the woman, Fareeda, was asked to take her husband Ameer Sab for an x-ray, but was allegedly given no stretcher or wheelchair at the Shivamogga Medical College. The staff allegedly didn't help either, so it was left to her to somehow make sure her husband made it for his x-ray.
The video of Fareeda dragging her husband has been widely shared and has also been shown on loop by local TV channels.
The Director and Dean of the, BV Sushil Kumar, told NDTV that he had suspended four employees, including three nurses for not providing a wheelchair or any assistance. But he also claimed that Fareeda was not in such a dire state at all.
"Ameer had been admitted five days ago with chest infection and hypertension. He was admitted in the ward and was staying there. On Tuesday, he was advised to get an ultra-sound. The next day his wife Fareeda asked for a wheelchair. The Group D employee had gone with another patient on the wheelchair. But she got upset about waiting and began dragging her husband. There was no need. It was not an emergency," Dr Kumar said.
It is believed that the video was taken by someone who had come to visit a patient.
Ameer is still being treated at the hospital. A local channel has said it will donate Rs 51,000 for his treatment.