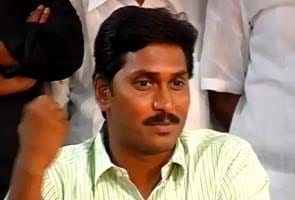 Hyderabad:
YSR Congress chief Jagan Mohan Reddy has resigned as an MP in protest against the creation of Telangana by bifurcating Andhra Pradesh. Mr Reddy's mother, YS Vijaya, has also quit as an MLA in a bid to register her protest against the issue.
The Centre's announcement last month of Telangana as the country's 29th state is being opposed stridently by people from the other two regions of coastal Andhra and Rayalaseema, the latter being a stronghold of Mr Reddy who has been in jail for nearly 14 months on charges of corruption.
"Jagan faxed his resignation letter to Lok Sabha Speaker through the (Chanchalguda) jail authorities. It will also be sent by post," YSR Congress leader Mekapati Rajamohan Reddy said.
Earlier this week, Jagan Reddy's sister had slammed the Centre's move as "wicked", alleging that the decision was aimed partly at containing the growing popularity of her brother, who quit the Congress in 2011 and formed the YSR Congress, named after their father, who died in 2009 while he was the state's chief minister.
For now, the Centre has said that the 10 districts that make up Telangana will morph into a new state. But Congress leaders like Digvijaya Singh have acknowledged that they will gauge the possibility of affixing two districts from Rayalaseema to the new state.
That proposal is based on careful calculations because it would equally divide the 42 Lok Sabha seats from Andhra Pradesh between the two states. The gain the Congress makes in Telangana, its leaders believe, would compensate for a hit in the other two regions.
The bonus for the Congress is that the two Rayalaseema areas it wants to move over to Telangana are seen as loyal to Mr Reddy, so the new boundaries could potentially check his impact on voters.