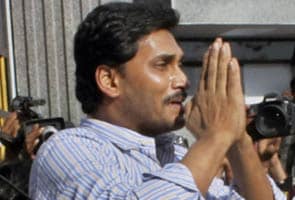 Hyderabad:
Thousands of supporters welcomed YSR Congress president YS Jagan Mohan Reddy at his Lotus Pond residence on Tuesday night as his convoy reached the destination, more than five hours after it started from Chanchalguda Central Jail.
Mr Reddy walked out of jail nearly 16 months after he was arrested in a corruption case.
It was an emotional moment for the young leader as his mother YS Vijayamma, sister Sharmila, wife YS Bharathi and both the daughters welcomed him at the palatial house in Jubliee Hills.
The MP from Kadapa paid tributes to his father, the late YS Rajasekhara Reddy soon after entering the house. Party legislators, other top leaders and activists who had come from different parts of the state were waiting for him since morning.
As soon as the convoy reached the residence, his supporters erupted in joy, bursting crackers and raising slogans of 'Jai Jagan' as the leader is popularly known. Police had a tough time in controlling the surging crowd trying to enter the house.
The supporters of Mr Reddy vied with each other to shake hands with him. He was also seen having a chat with few of them inside the house and thanking them for their support.
The convoy reached the house after passing through several busy areas in the city. It took five and half hours for the convoy to cover a distance of 15 km.