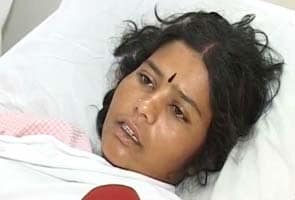 Hyderabad:
Along with the 16 people who were killed, nearly 120 more were injured in Thursday's twin blasts at Dilsukhnagar, a suburb in Hyderabad. Among them was 30-year-old Yashoda, who was six-months pregnant with her second child. She was on her way back home from work when she was thrown away by the impact of the blast and landed on her stomach. She not only hurt her ribs severely, but also, lost her unborn child.
Another victim of the terror attack is Lakshmi, 23, who has not seen her son since the blasts. She is among the four members of her family who were injured in the blasts. They all had gone for dinner to Dilsukhnagar when the blasts occurred.
She came with her entire family to Hyderabad from her home in Nalgonda in central Andhra Pradesh for the treatment of her one-and-a-half-year-old son, who has a heart ailment. According to doctors, the child needs an operation in three months' time. However, after the blasts, Lakshmi herself may not be able to walk for the next few months. Her leg is being supported by an external device which will help set her bone first and then she will need multiple surgeries before she can walk again.
"My son is already unwell. Doctors told us we will need to monitor his condition closely for the next 3 months," she told NDTV.
Five more victims of the blasts are in critical a condition. There are also some fortunate ones who had miraculous escapes. Pushpa, who was standing three feet away from the point of a blast, was saved by a pillar she was standing behind and escaped unhurt. However, she says the memory of the blast will haunt her forever.