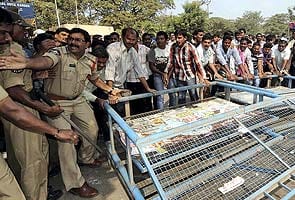 New Delhi:
Five Congress lawmakers from the Telangana region of Andhra Pradesh resigned from the party on Wednesday night to press for the creation of a separate state.
Those who sent in their resignations are: Manda Jagannatam, Ponnam Prabhakar, S Rajaiah, Vivek Reddy and Surinder Reddy. A joint resignation letter was sent to Congress chief Sonia Gandhi through a courier, the MPs said.
Mr Rajaiah said there was no question of a compromise on Telangana statehood issue. "I have given my resignation to Sonia Gandhi. This resignation should put pressure. They had made the promise, now you cannot go back on the word. They will have to listen to us. All the majority parties had supported formation of Telangana. We gave hope to the people, now that has to be fulfilled," he said.
Mr Rajaiah, however, added, "A compromise can happen only if a positive roadmap is given for the creation of a separate state." He also said that the decision to resign was taken after two days of deliberations among the leaders at Warangal.
The resignations came on a day when the party indicated that it was not against the creation of Telangana. Congress spokesman P C Chacko had said earlier in the day, "We are in the process of taking a decision but then formalities have to be completed."
Asked specifically whether he meant to say Telangana will be announced and it is just a matter of time now, the Congress spokesperson responded by saying "you are right. We have taken a position. Our party position is very clear... but whatever decision has to be taken has to fulfil some Constitutional obligations."
Nizamabad Congress MP Madhu Goud Yaskhi, one of the parliamentarians at the forefront of the agitation for a separate state, told reporters that he did not see any need for resignation after Mr Chacko's statement.
"I don't think there is any need for resignation now. Chacko's statement is clear," Mr Yaskhi said.
However, Rajaiah and Ponnam Prabhakar said they were firm on submitting their resignations to Sonia Gandhi.
"It might be his (Madhu's) personal opinion. We want to send our resignation letters," Mr Rajaiah said.
The Centre had last month promised a decision on Telangana by January 28, but on Sunday it asked for more time. Home Minister Sushil Kumar Shinde and Ghulam Nabi Azad, the Congress's Andhra Pradesh in-charge, said more consultations were needed with leaders.
The deferment has put the Congress's pro-Telangana leaders in Andhra in a spot. They are being asked by activists in favour of statehood to resign or face a social boycott.
The Telangana Rashtra Samithi (TRS), which is leading the statehood agitation, has vowed to intensify its campaign. Its chief, K Chandrasekhara Rao, hinted at joining hands with any non-Congress alliance to push the statehood goal.
The Telangana agitation has kept Andhra Pradesh in turmoil for over three years, since December 2009 when the TRS chief's 11-day hunger-strike fuelled an aggressive campaign, and then Home Minister P Chidambaram made a surprise announcement that the government had agreed to a Telangana state.
As leaders from the two other Andhra regions - Rayalaseema and coastal Andhra - protested, the government set up the BN Srikrishna panel in 2010 to find a solution. The committee has offered several options in its report, but a final decision is awaited.
(With inputs from PTI)