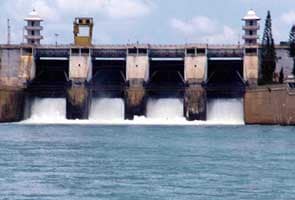 Chennai:
Life came to a standstill in the delta districts of Tamil Nadu, including Thanjavur, Nagapattinam and Tiruvarur, as farmers observed a bandh over the Cauvery water crisis today. The protest comes a day after neighbouring state Karnataka began releasing 10,000 cusecs of water to Tamil Nadu for four days as directed by the Supreme Court.
Shops remained closed in the areas as agitating farmers blocked trains and buses as a mark of protest. They have demanded the Supreme Court to ensure the farmers receive adequate water to save the standing paddy crop in 14 lakh acres.
Arupathi Kalyanam of the Cauvery Delta Farmers Association (CDFA) said, "The Tamil Nadu government is asking for 30,000 million cubic feet of water as farmers are dying, but what the Supreme Court has ordered for four days is less than 3.5 tmc feet. What are we going to get? If you leave us in the lurch what's the use if the farmers die? All we ask the Supreme Court is a clear direction to the Centre. Karnataka should give 52 tmc feet of water to Tamil Nadu according to the Distress Sharing Formula. Let the Centre take control of the dams in Karnataka and release waters for Tamil Nadu. If Karnataka behaves like a separate country then you can't stop Tamil Nadu from behaving so".
The war over Cauvery waters continues to be fought in courts even after the Cauvery Tribunal gave its verdict. Karnataka is not adhering to the Distress Sharing Formula. Although the Prime Minister headed Cauvery River Authority (CRA) asked Karnataka to release 9000 cusecs of water for two weeks, Karnataka did not comply with it fully, citing low storage and its own irrigation and drinking water requirements.
With Tamil Nadu filing a contempt petition, the Supreme Court directed the Chief Ministers of both states to hold talks. But that meeting too failed to end the impasse following which the Supreme Court ordered Karnataka to release 10,000 cusecs of water till Monday.
Meanwhile the Cauvery Monitoring Commission (CMC) would submit a report on the water requirements of both states for December based on which the Supreme Court will announce its decision.