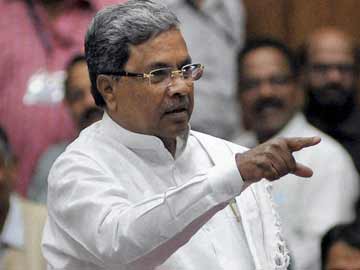 Bangalore:
Accusing the Siddaramaiah government of "gross negligence", BJP today sought Governor H R Bhardwaj's intervention to advise it to galvanise the "defunct" State administration, particularly in the light of drought situation.
A BJP-delegation led by party state president Prahalad Joshi that comprised former Chief Minister Sadananda Gowda and former Deputy Chief Ministers K S Eshwarappa and R Ashoka charged the Congress government with "gross negligence" towards governance and said it has failed on all fronts.
It urged Mr Bhardwaj to "wake up Siddaramiah and his Cabinet colleagues from their deep slumber and focus their attention on combating drought situation with all seriousness."
"We take this opportunity to seek your intervention to advise the Chief Minister and his Cabinet colleagues to discharge their duties and to attend to their responsibilities immediately shedding their laxity," the memorandum said.
"The state administration needs urgent resuscitation for the timely performance of its duties."
BJP said the Chief Minister has to take the members of the opposition into confidence and call for an all-party meet to discuss the drinking water crisis and the measures to address the drought situation on a war-footing.
Demanding that the state government rollback its decision to impose power cuts, it suggested that to augment the shortfall, arrangements must be made to procure the power from the central grid and increase the power generation in the state-owned units.