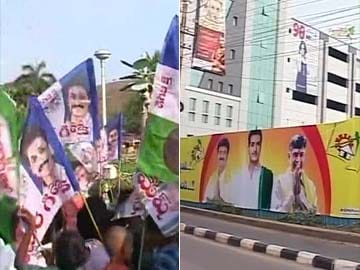 Krishna district, Andhra Pradesh:
With the creation of Telangana as India's 29th state now just a signature away, the fight for leadership in the Seemandhra region seems to be heating up.
While the Telangana Rashtra Samithi and the Congress are in talks over a possible alliance hoping to get as many of the 17 Lok Sabha seats in Telangana, the main battle in the Andhra region, it seems, will be between the Telugu Desam Party's Chandrababu Naidu and the YSR Congress' Jagan Mohan Reddy.
In a bid to woo anti-Telangana voters, both parties have put up posters on streets and highways connecting to farther parts of Coastal Andhra. "We tried to keep the state united," some of them read.
In his appeal to the people of Seemandhara, Mr Reddy of the YSR Congress says, "I appeal to all to join our cause for united Andhra Pradesh. We must not stop our fight." Mr Naidu of the TDP claims that his party "tried its level best and is still trying to stop the bifurcation. Equal justice should be there to both the regions. We have been saying that very clearly from the beginning."
But voters here are seething in anger over the bifurcation of the state. "All politicians are the same. Why should we trust any one of them" Sridhar Rao, an angry central government employee in Vijayawada, told NDTV.
There has been an exodus of Congressmen from the party since they admit the Congress is a sinking ship in Seemandhra after the split. The BJP has very little presence but is hoping to have gained goodwill after having lobbied for a 'better package'. Former Chief Minister Kiran Kumar Reddy reportedly plans to form his own party. But critics say doing so on the eve of the election may draw little impact, especially at a time when some of his loyalists seem to be distancing themselves from the Rayalaseema leader.
The main fight hence is going to be between the TDP and the YSR Congress. But only time will tell who the voters pick.
"We will need to ensure that we form a stable government here. One that can help bring Seemandhra out of the crisis. We need a leader who will be able to take the industries and agriculture sector along. Seemandhra will be very decisive in its voting now because we are concerned for our future," said Pattabhirama, an industry expert from the Vijayawada-Guntur region.