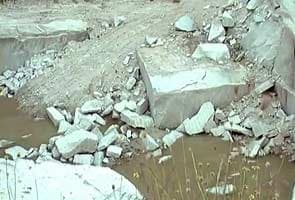 Madurai:
Officials from the Madurai district administration in Tamil Nadu are conducting raids at 175 granite quarries across the district. The former Collector of Madurai Mr Sagayam, who was recently transferred, had alleged major violations by many granite quarries and had estimated a loss of more than sixteen thousand crore rupees to the state exchequer.
The present Collector Mr Anshul Mishra told NDTV that eighteen teams are conducting raids today and the teams would submit reports in ten days. "Officials have been instructed to measure the quantity of granite mined and identify violations," he said. He added tough action will be taken against all those who had violated.
The former Collector had named three quarries in his report which he had inspected and alleged that huge quantities of granite were mined figures with the connivance of officials from Revenue and TAMIN Ltd [Tamil Nadu Minerals Ltd]. He added some of them have encroached water bodies, which in turn has affected agriculture and grazing areas for cattle.
Most of these granite quarries are on hillocks and government-owned 'poromboke' land and most of these are owned by the Tamil Nadu Minerals Department which leases them to private parties who would have to pay for the granite they mine.
"A company that pays the government eighty lakhs literally transports eighty crore worth of granite totally unaccounted for or much more than what they have been permitted to mine," a senior official told NDTV.
PMK Chief Dr Ramadoss has already called for a CBI probe adding that the information provided by the Collector suggests irregularities in mining. "This scam could be much bigger than the iron ore scam involving the Reddy brothers which created a political storm in Andhra and Karnataka," he said.
"Chief Minister Jayalalithaa had made this an election issue last year and though her Industries Minister had promised to take action against those who violated, nothing happened after that," he added.