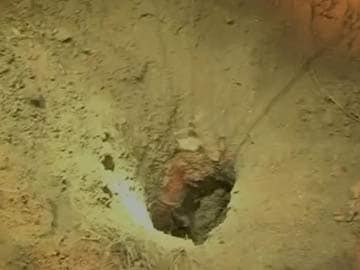 Bangalore:
In a major drive in the light of several cases of children falling into open borewells, a total of 1,47,786 such defunct borewells have been identified and closed in the state, State Minister for Rural Development and Panchayat Raj H K Patil said yesterday.
"We had set August 31 deadline to close open defunct borewells on private and government lands. I have records till September 5. Total number of identified defunct open borewells in government land are 48,679 and private are 99,107," he told reporters in Bangalore.
The state government had set August 31 as the deadline to close open borewells in August first week when a six-year-old boy was trapped inside a borewell in his father's farm in Sulikeri village in Bagalkot district and his decomposed body was recovered after a massive rescue operation for eight days.
In a similar case in June, a four-year-old girl fell into an open borewell and died at Nagathan village of Bijapur district.
Patil said there might be private defunct open borewells still existing, but chances of government ones existing were "very minimal," he added.
Stating that various departments, public, governmental and media have actively participated in this drive, Mr Patil said "with everyone's efforts we have been able to successfully close the maximum number of open defunct borewells".
He also said all those new borewells which fail hereon will be used as recharging borewell under a special programme.
Pointing out that five lakh five thousand toilets were constructed in Karnataka against the set target of six lakh toilets last year, Mr Patil said "this year we have set a target of constructing 10 lakh toilets in the state and programmes have been planned and initiated in this regard".
He said a campaign from September 10-15 to motivate people to have individual household toilets has been launched during which applications would be accepted and work orders issued for construction of toilets.
"We have decided to issue minimum five lakh work orders by September 15 and eNMR (Nominal Muster Roll) should be generated," he added.
Mr Patil said till today 2,35,124 work orders have been issued, and number of NMR generated are 1,71,742 in all 30 districts.
"We have instructed that at least 100 work orders should be issued in each of the gram panchayats in the state, he added, stating that these programme are taken up under NBA (Nirmal Bharat Abhiyan and MNREGA) and MNREGA (Mahatma Gandhi National Rural Employment Guarantee Act).