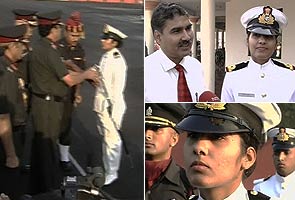 Pune:
A cadet of the Armed Forces Medical College (AFMC) at Pune, Shikha Awasthi, will become the first woman to receive a Sword of Honour for overall excellence at the passing-out parade of the institute.
She will also become the first graduate of AFMC to receive all three top honours, namely, the Sword of Honour, the Presidents Gold Medal and the Kalinga Trophy.
Lt Gen DP Vats, Director and Commandant, AFMC, said "ladies have been serving in the Armed Forces medical services with distinction. The selection of a lady doctor to receive the Sword of Honour, in addition to other academic awards, marks the entry of women into a position that has been the exclusive domain of males."
"Awasthi will be given these awards at the passing-out parade of the 45th course on March 18," he said.
Awasthi hails from Rae Bareilly in Uttar Pradesh. She did her schooling from K-V Bolarum in Secunderabad before joining the AFMC in Pune in 2006.