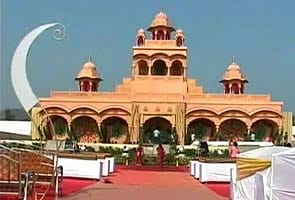 Mumbai:
Income tax officials have raided the home of Maharashtra minister Bhaskar Jadhav, who belongs to the NCP headed by union agriculture minister Sharad Pawar.
Mr Jadhav had been criticized for hosting a lavish wedding for his son and daughter at a time when the state is in the midst of a drought. He is Maharashtra's minister of state for urban development.
Maharashtra is co-governed by the Congress and the NCP.
However Mr Jadhav has denied the allegations. "I have not done anything wrong. If proven guilty, I will not only resign from my ministerial post but also quit public life," the NCP legislator from Chiplun in Ratnagiri district told reporters in Mumbai.
"My life is an open book and I like to celebrate the happiness in my family with people of my constituency who have made me what I am today," he said.
Mr Jadhav said NCP supremo Sharad Pawar had the right to pull him up for the lavishness. "What I did unintentionally was not in line with Mr Pawar's principles and I have apologised," he said.
Mr Jadhav's boss, Mr Pawar, had also said the extravagant weddings "gave him sleepless nights."
Mr Jadhav's home and offices in and around his constituency have been raided.
The wedding held in Chiplun, about 300 kilometres from Mumbai, included a palatial set measuring five lakh square feet, the buffet offered 60 choices; 22 helipads were built around the venue for the guests to reach. 100,000 people had been invited.
Mr Jadhav's constituency of Ratnagiri is one of the drought hit districts of Maharashtra.