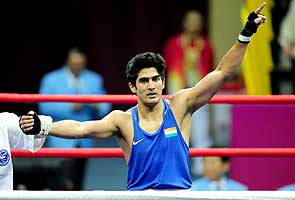 1) Vijender Singh Beniwal (full name) was born on October 29, 1985 in Bhiwani district of Haryana. The 27-year old is married to Delhi girl Archana Singh, who is a software engineer with an MBA degree.
2) He practiced boxing at the Bhiwani Boxing club from where his coach Jagdish Singh spotted his talent and encouraged him to take up the sport professionally. Vijender went on to be coached by national coach Gurbax Singh. His first international event was the Afro-Asian Games in 2003 as a junior boxer. A silver medal in these Games kick started his international career.
3) His style of technical boxing with hooks and uppercuts is compared to Hollywood action superstar Sylvester Stallone's character in the famous 'Rocky' series. Vijender cites Stallone as one of his primary influences and also idolizes legends Muhammad Ali and Mike Tyson.
4) Vijender competed in the 2004 Summer Olympics in Athens, where he lost to Mustafa Karagollu of Turkey by a score of 20-25 in the welterweight category. A bronze medal finish in the 2006 Commonwealth Games helped him up his competing category to middleweight (75 kgs). In the Asian Games that year, he clinched bronze medal after losing to Kazakhstan's Bakhtiyar Artayev with the final score of 24-29 in the semi-final.
5) Prior to the Beijing Olympics in 2008, he underwent extensive training at the National Institute of Sports in Patiala. In the Beijing Games, he beat Carlos Gongora of Ecuador 9-4 in the quarterfinals which guaranteed him a medal, the first ever Olympic medal for an Indian boxer. He then lost 5-8 to Cuba's Emilio Correa in the semi-finals on August22 and to share the bronze.
6) In July 2009, Vijender was felicitated with the Rajiv Gandhi Khel Ratna award. After missing out on the Padma Shri the same year, he took a job with the Haryana Police department. His semi-final loss in the 2009 World Amateur Boxing Championships not just earned him a bronze medal but also helped him reached the No.1 world ranking in the middleweight category, issued by International Boxing Association (AIBA) in September 2009.
7) In January 2010, Vijender was awarded the Padma Shri for outstanding contribution to Indian sports. At the 2010 Commonwealth Games in New Delhi, Vijender was beaten by England's Anthony Ogogo in the semi-finals and ended with a bronze. A month later at the 2010 Asian Games in Guangzhou, he beat two-time Uzbekistan's world champion Abbos Atoev 7-0 in the final.
8) In the 2012 London Olympics, he lost to Atoev 13-17 in the quarter-final, thus missing out on the bronze medal. After the event, Vijender had expressed his desire to move up a weight category to 81 kg class.
9) His foray into being a popular media personality started in 2008 after his Olympic bronze medal, that made him a pin-up boy. He was then seen doing ramp walks, modelling and ad campaigns. His commercial brand value is close to Rs 1.5 crore in endorsements and is managed by Percept India, a celebrity management firm.
10) In March 2013, Vijender was embroiled in a drugs controversy after Punjab Police unearthed close Rs 130 crore worth drugs from the home of an NRI named Anup Kallon, who had a common friend in another national-level boxer, Ram Singh. Later it was revealed by Punjab Police that Vijender allegedly took heroine 12 times. The Punjab Police are still investigating the case which may hamper Vijender's preparations for the World Championships in October this year.