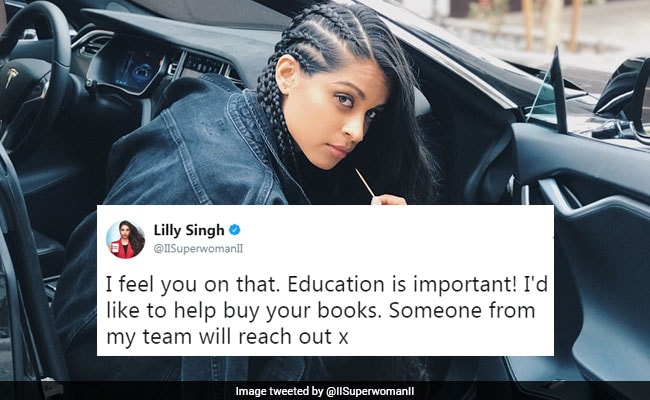 YouTuber Lilly Singh, better known by her moniker 'Superwoman', recently gave away $1,000 to celebrate reaching 1,000 vlogs. The third highest-paid YouTuber in the world spread some early Christmas cheer amongst her fans by helping them with everything from their gym memberships to books to rent and groceries. On November 7, Lilly Singh asked her 4.5 million Twitter followers about the challenges they're facing and then offered to give cash to help them tide through.
From rent
I would like to help pay your rent and give you $100. Someone from my team will reach out asap sis x https://t.co/fPLK9eMP8t

- Lilly Singh (@IISuperwomanII) November 8, 2017
Figuring out how to work enough to pay my rent and bills, graduate, and figure out time to see my girlfriend who lives 3000 miles away, and getting her to move here the soonest possible I guess ahah

- Carine (@CarineTerio) November 8, 2017
To groceries
You are so strong sis. I'd love to help by paying for $100 worth of groceries. Give your brother a hug for me x https://t.co/OzpqZc8KCJ

- Lilly Singh (@IISuperwomanII) November 8, 2017
My mother was arrested recently and I'm working as hard as I can to get her out. Becuz of this I'm on my own with my 10 year old brother trying to take him 2 school and pay for bills and food. It's really hard. I really need some kind of help.

- Kristin (@Kdoll101) November 8, 2017
To gym memberships
What a champ! That's amazing. I'd like to help pay for your gym membership babe x Someone will reach out https://t.co/kexxzKdBwd

- Lilly Singh (@IISuperwomanII) November 8, 2017
Gym memberships! Lost 45kgs in two years without it but now I feel like hitting the gym is my next step forward, but I can't afford it

- Natasha (@tashtypes) November 8, 2017
She donated generously to help her fans
Hey baby girl. I'm sorry I can't help more but I'd love you to take your mom out for a fun night, my treat. Have the best time ever and make great memories. Someone will be in touch love x https://t.co/ebocFdSuFH

- Lilly Singh (@IISuperwomanII) November 8, 2017
Mom telling me that she's going to die very soon EVERYDAY. I don't blame her even the doctor said that to me...so it's hard for me to accept the fact that I'm going to live alone with no parents at this age. I'm not ready to lose anyone in my life

- Uma (@SuperwomanFreak) November 8, 2017
According to the
BBC
, Uma was 'speechless' when Lilly offered to pay her to take her sick mum out for a fun night.
Lilly I wasn't expecting for you to help love, I just wanted to vent my problems with you. Temple is the only place where my mom finds peace and happiness, I bring her there almost everday Thank you for interacting with me,this means so much to me Lilly

- Uma (@SuperwomanFreak) November 8, 2017
Unsurprisingly, her wonderful gesture won her loads of goodwill
I'm not even getting help but I'm going to sleep happy bc I'm glad to say that my idol is someone this amazing, generous, and kind. Keep being awesome. Ily

- Khadija Malik (@kmalik77713) November 8, 2017
You are so kind. This warms my heart

- Annika McClintock (@Annikaclinto1) November 9, 2017
Superwoman = pure kindness and humbleness

- Isabella Zoey (@IsabellaZoey13) November 8, 2017
In May this year, rapper Nicki Minaj
surprised her fans
similarly by paying for their college tuition.
Click for more
trending news