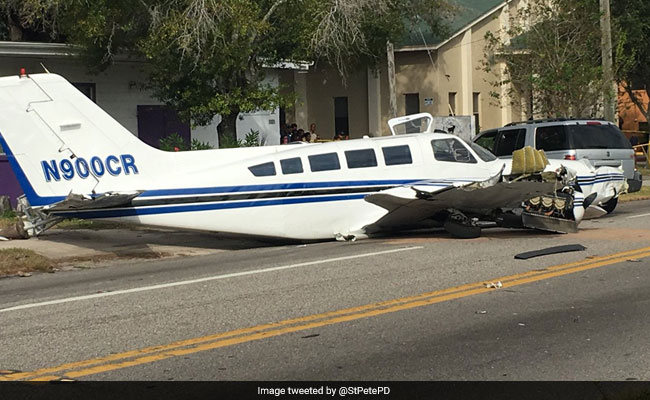 A CCTV camera has captured the exact moment a small plane crash-landed at a street in St. Petersburg, Florida, US, hitting cars as it did. The incident took place on Wednesday afternoon. Thankfully, everybody survived the emergency landing, though three people were taken to the hospital and one treated on the spot, reports
News 8
. The footage was captured from a CCTV camera installed at a local hair studio. The Jones Barber Studio shared the footage on
Facebook
on October 20, describing it as a 'heart pounding, earth shaking experience'.
Watch the hair-raising video below:
According to
local reports
, the plane was carrying only two people at the time it crashed.
The St. Petersburg Police Department confirmed on Twitter that the plane struck two cars while landing. They also shared a video of the crash site:
Plane hit 2 vehicles. @StPeteFR took 3 to the hospital but no serious injuries pic.twitter.com/L7TeVQsTpV

- St. Pete Police (@StPetePD) October 18, 2017
St. Pete Fire Department also shared photos from the site:
Plane crash on 18 Av S and 16 St S pic.twitter.com/O2OXGOhtWC

- St Pete Fire Rescue (@StPeteFR) October 18, 2017
According to the
Daily Mail
, firefighters of St. Petersburg are unclear about what caused the twin-engine Cessna 402B to come down, but credit the pilot for landing as successfully as he did, avoiding buildings or potential fatalities.
"Where I looked up and could see him going sideways, it was right over where the school was, and if he would've gone down over there, he would've probably hit children, because kids were getting out of school," said one witness, Tabitha Callihan.Click for more
trending news