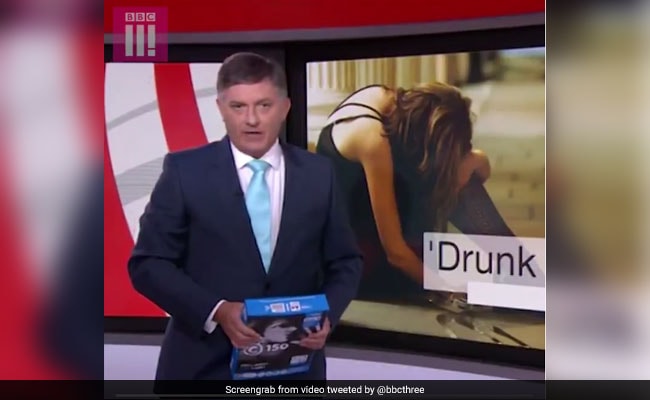 Live news can be tough on anyone, but most so, it would appear, on television news anchors. Whether it's a technical glitch that leaves you
staring into a camera blankly for four minutes
or
scrambling across the studio trying to find the right camera
, in the time of social media, those
bloopers can come back to haunt you
.
It has been four years since BBC News presenter Simon McCoy went live on air holding a stack of A4 papers instead of an iPad. But clearly, his employers haven't forgotten the flub and aren't letting him forget it either.
BBC Three tweeted a hilarious clip that shows the broadcaster discussing "drunk tanks," all the while holding a stack of A4 papers - the kind you'd use to refill an office printer, perhaps. To his credit, the anchor manages to pull off his piece to camera with a straight face.
In 2013,
the BBC clarified
Mr McCoy had picked up the paper by mistake, saying: "...instead of picking up his tablet to hold as he went to air, he mistakenly picked up a ream of paper that was sitting next to it. In the rush of live news, he didn't have an opportunity to swap the items, so simply went with it."
Watch the hilarious mix-up below:
Four years since @BBCSimonMcCoy used a pack of A4 paper instead of an iPad. pic.twitter.com/XI0cyuqU1L

— BBC Three (@bbcthree) September 19, 2017
In just one day, the throwback video has been 'liked' over 20,400 times and retweeted over 9,400 times. And while it may have happened four years ago, the goof-up still has the Internet laughing out loud.
As if it's been 4 years since that epic TV news moment where Simon McCoy picked up a ream of paper instead of an iPad. My tribute from 2013. pic.twitter.com/tpcV1OyL1S

— Tina Daheley (@TinaDaheley) September 19, 2017
I still love this. 4 years on https://t.co/A6YT55nE4t

— Eilidh Barbour (@EilidhBarbour) September 19, 2017
It's made even better that the word "Drunk" appears in the background!

— Martin Baker (@ytfcbadger) September 19, 2017
Sometimes just trying to be a bro and change the printer paper when you suddenly get called to host a news program!

— TonyCirro (@TonyCirro) September 19, 2017
When you're on your way to refill the office copy machine and your boss asks you report a story real quick

— Josh Costello (@JCostello247) September 19, 2017
No shame at all, totally cool... hoping no one clicks its a pack of paper..... genius

— Colin&Jo Duff (@colinjoduff) September 19, 2017
All in a day's work.Click for more
trending news